Temperature gauges Bourdon

Bourdon-Haenni is one of the world leading brands for mechanical process instrumentation and belongs with its international business locations to the Baumer Group. Historically, this competence and passion is based on the Bourdon tube invented in 1843 by Eugène Bourdon, which is the central component for precise mechanical pressure measurement technology, today and in the future. The comprehensive product portfolio is manufactured with high vertical integration and state-of-the-art process methods in the company own production sites in France, Switzerland, Germany and India.
---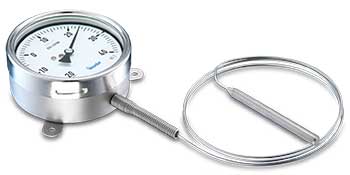 Temperature gauges are a good choice for local temperature reading close to the process. They are reliable, need no external power supply and allow constant process monitoring. Bourdon mechanical temperature measurement solutions include bi-metal thermometers with various connections, stem diameters and lengths for local reading and particularly versatile gas filled thermometers for local and remote reading when combined with capillaries of up to 30 m in length.
Bourdon dial thermometers guarantee accurate reading for temperature as low as -200°C and up to 800°C. Thermometers with bimetal technology are available with a vertical, horizontal or every angle stem and a maximum length of 1000 mm. Our high quality dial thermometers - class 1 according to EN 13190 - are designed and manufactured with your application in mind. Whether HVAC, Oil and Gas, food and beverage, water treatment, nuclear power stations, chemical and petrochemical plants, at Bourdon we have the right solution for you.
---
Manufactured Thermometers
open / close
, use the search
ctrl + F
| | | | | | |
| --- | --- | --- | --- | --- | --- |
| TB080-212.152.11T | 80 mm | 0 ... 60 °C | 100 mm | Brass | IP50 |
| TB080-212.152.12T | 80 mm | 0 ... 100 °C | 100 mm | Brass | IP50 |
| TB080-212.152.13T | 80 mm | 0 ... 160 °C | 100 mm | Brass | IP50 |
| TB080-212.156.52T | 80 mm | -20 ... 40 °C | 250 mm | Brass | IP50 |
| TB080-212.157.20T | 80 mm | 0 ... 120 °C | 400 mm | Brass | IP50 |
| TB080-212.152.20T | 80 mm | 0 ... 120 °C | 100 mm | Brass | IP50 |
| TB080-212.152.52T | 80 mm | -20 ... 40 °C | 100 mm | Brass | IP50 |
| TB080-212.154.11T | 80 mm | 0 ... 60 °C | 160 mm | Brass | IP50 |
| TB080-212.154.12T | 80 mm | 0 ... 100 °C | 160 mm | Brass | IP50 |
| TB080-212.154.20T | 80 mm | 0 ... 120 °C | 160 mm | Brass | IP50 |
| TB080-212.154.52T | 80 mm | -20 ... 40 °C | 160 mm | Brass | IP50 |
| TB100-212.152.10T | 100 mm | 0 ... 40 °C | 100 mm | Brass | IP50 |
| TB100-212.152.11T | 100 mm | 0 ... 60 °C | 100 mm | Brass | IP50 |
| TB100-212.152.12T | 100 mm | 0 ... 100 °C | 100 mm | Brass | IP50 |
| TB100-212.152.13T | 100 mm | 0 ... 160 °C | 100 mm | Brass | IP50 |
| TB100-212.152.14T | 100 mm | 0 ... 250 °C | 100 mm | Brass | IP50 |
| TB100-212.152.20T | 100 mm | 0 ... 120 °C | 100 mm | Brass | IP50 |
| TB100-212.152.27T | 100 mm | 0 ... 80 °C | 100 mm | Brass | IP50 |
| TB100-212.152.51T | 100 mm | -30 ... 70 °C | 100 mm | Brass | IP50 |
| TB100-212.152.52T | 100 mm | -20 ... 40 °C | 100 mm | Brass | IP50 |
| TB100-212.152.53T | 100 mm | -10 ... 30 °C | 100 mm | Brass | IP50 |
| TB100-212.152.54T | 100 mm | -20 ... 60 °C | 100 mm | Brass | IP50 |
| TB100-212.154.10T | 100 mm | 0 ... 40 °C | 160 mm | Brass | IP50 |
| TB100-212.154.11T | 100 mm | 0 ... 60 °C | 160 mm | Brass | IP50 |
| TB100-212.154.12T | 100 mm | 0 ... 100 °C | 160 mm | Brass | IP50 |
| TB100-212.154.13T | 100 mm | 0 ... 160 °C | 160 mm | Brass | IP50 |
| TB100-212.154.14T | 100 mm | 0 ... 250 °C | 160 mm | Brass | IP50 |
| TB100-212.154.20T | 100 mm | 0 ... 120 °C | 160 mm | Brass | IP50 |
| TB100-212.154.51T | 100 mm | -30 ... 70 °C | 160 mm | Brass | IP50 |
| TB100-212.154.52T | 100 mm | -20 ... 40 °C | 160 mm | Brass | IP50 |
| TB100-212.154.53T | 100 mm | -10 ... 30 °C | 160 mm | Brass | IP50 |
| TB100-212.154.54T | 100 mm | -20 ... 60 °C | 160 mm | Brass | IP50 |
| TB100-212.156.11T | 100 mm | 0 ... 60 °C | 250 mm | Brass | IP50 |
| TB100-212.156.12T | 100 mm | 0 ... 100 °C | 250 mm | Brass | IP50 |
| TB100-212.156.13T | 100 mm | 0 ... 160 °C | 250 mm | Brass | IP50 |
| TB100-212.156.14T | 100 mm | 0 ... 250 °C | 250 mm | Brass | IP50 |
| TB100-212.156.20T | 100 mm | 0 ... 120 °C | 250 mm | Brass | IP50 |
| TB100-212.156.51T | 100 mm | -30 ... 70 °C | 250 mm | Brass | IP50 |
| TB100-212.156.52T | 100 mm | -20 ... 40 °C | 250 mm | Brass | IP50 |
| TB100-212.157.11T | 100 mm | 0 ... 60 °C | 400 mm | Brass | IP50 |
| TB100-212.157.12T | 100 mm | 0 ... 100 °C | 400 mm | Brass | IP50 |
| TB100-212.157.14T | 100 mm | 0 ... 250 °C | 400 mm | Brass | IP50 |
| TB100-212.157.20T | 100 mm | 0 ... 120 °C | 400 mm | Brass | IP50 |
| TB100-212.157.52T | 100 mm | -20 ... 40 °C | 400 mm | Brass | IP50 |
| TB100-212.162.20T | 100 mm | 0 ... 120 °C | 100 mm | Stainless steel | IP50 |
| TBH080-212.151.11T | 80 mm | 0 ... 60 °C | 48 mm | Brass | IP50 |
| TBH080-212.151.12T | 80 mm | 0 ... 100 °C | 48 mm | Brass | IP50 |
| TBH080-212.151.20T | 80 mm | 0 ... 120 °C | 48 mm | Brass | IP50 |
| TBH080-212.151.52T | 80 mm | -20 ... 40 °C | 48 mm | Brass | IP50 |
| TBH080-212.152.11T | 80 mm | 0 ... 60 °C | 68 mm | Brass | IP50 |
| TBH080-212.152.12T | 80 mm | 0 ... 100 °C | 68 mm | Brass | IP50 |
| TBH080-212.152.20T | 80 mm | 0 ... 120 °C | 68 mm | Brass | IP50 |
| TBH080-212.152.52T | 80 mm | -20 ... 40 °C | 68 mm | Brass | IP50 |
| TBH080-212.153.11T | 80 mm | 0 ... 60 °C | 88 mm | Brass | IP50 |
| TBH080-212.153.12T | 80 mm | 0 ... 100 °C | 88 mm | Brass | IP50 |
| TBH080-212.153.20T | 80 mm | 0 ... 120 °C | 88 mm | Brass | IP50 |
| TBH080-212.153.52T | 80 mm | -20 ... 40 °C | 88 mm | Brass | IP50 |
| TBH100-212.151.11T | 100 mm | 0 ... 60 °C | 48 mm | Brass | IP50 |
| TBH100-212.151.12T | 100 mm | 0 ... 100 °C | 48 mm | Brass | IP50 |
| TBH100-212.151.20T | 100 mm | 0 ... 120 °C | 48 mm | Brass | IP50 |
| TBH100-212.151.52T | 100 mm | -20 ... 40 °C | 48 mm | Brass | IP50 |
| TBH100-212.152.11T | 100 mm | 0 ... 60 °C | 68 mm | Brass | IP50 |
| TBH100-212.152.12T | 100 mm | 0 ... 100 °C | 68 mm | Brass | IP50 |
| TBH100-212.152.20T | 100 mm | 0 ... 120 °C | 68 mm | Brass | IP50 |
| TBH100-212.152.52T | 100 mm | -20 ... 40 °C | 68 mm | Brass | IP50 |
| TBH100-212.153.11T | 100 mm | 0 ... 60 °C | 88 mm | Brass | IP50 |
| TBH100-212.153.12T | 100 mm | 0 ... 100 °C | 88 mm | Brass | IP50 |
| TBH100-212.153.20T | 100 mm | 0 ... 120 °C | 88 mm | Brass | IP50 |
| TBH100-212.153.52T | 100 mm | -20 ... 40 °C | 88 mm | Brass | IP50 |
| TBHA080-212.161.11T | 80 mm | 0 ... 60 °C | 55 mm | Stainless steel | IP50 |
| TBHA080-212.161.12T | 80 mm | 0 ... 100 °C | 55 mm | Stainless steel | IP50 |
| TBHA080-212.161.20T | 80 mm | 0 ... 120 °C | 55 mm | Stainless steel | IP50 |
| TBHA080-212.162.11T | 80 mm | 0 ... 60 °C | 75 mm | Stainless steel | IP50 |
| TBHA080-212.162.12T | 80 mm | 0 ... 100 °C | 75 mm | Stainless steel | IP50 |
| TBHA100-212.161.11T | 100 mm | 0 ... 60 °C | 55 mm | Stainless steel | IP50 |
| TBHA100-212.161.12T | 100 mm | 0 ... 100 °C | 55 mm | Stainless steel | IP50 |
| TBHA100-212.161.20T | 100 mm | 0 ... 120 °C | 55 mm | Stainless steel | IP50 |
| TBHA100-212.162.11T | 100 mm | 0 ... 60 °C | 75 mm | Stainless steel | IP50 |
| TBHA100-212.162.12T | 100 mm | 0 ... 100 °C | 75 mm | Stainless steel | IP50 |
| TBHA100-212.162.20T | 100 mm | 0 ... 120 °C | 75 mm | Stainless steel | IP50 |
| TBHA100-212.162.27T | 100 mm | 0 ... 80 °C | 75 mm | Stainless steel | IP50 |
| TBI100-212.162.52T | 100 mm | -20 ... 40 °C | 100 mm | Stainless steel | IP67 |
| TBI100-212.164.13T | 100 mm | 0 ... 160 °C | 160 mm | Stainless steel | IP67 |
| TBHA080-212.162.20T | 80 mm | 0 ... 120 °C | 75 mm | Stainless steel | IP50 |
| TBHA080-212.162.27T | 80 mm | 0 ... 80 °C | 75 mm | Stainless steel | IP50 |
| TBHA080-212.161.27T | 80 mm | 0 ... 80 °C | 55 mm | Stainless steel | IP50 |
| TBHA100-212.161.27T | 100 mm | 0 ... 80 °C | 55 mm | Stainless steel | IP50 |
| TBL100-232.151.70T | 100 mm | -30 ... 50 °C | 165 mm | Brass | IP50 |
| TBL100-232.151.54T | 100 mm | -20 ... 60 °C | 165 mm | Brass | IP50 |
| TBL100-232.151.27T | 100 mm | 0 ... 80 °C | 165 mm | Brass | IP50 |
| TBL100-232.151.12T | 100 mm | 0 ... 100 °C | 165 mm | Brass | IP50 |
| TB080-212.152.10T | 80 mm | 0 ... 40 °C | 100 mm | Brass | IP50 |
| TB080-212.152.14T | 80 mm | 0 ... 250 °C | 100 mm | Brass | IP50 |
| TB080-212.154.53T | 80 mm | -10 ... 30 °C | 160 mm | Brass | IP50 |
| TB080-212.154.54T | 80 mm | -20 ... 60 °C | 160 mm | Brass | IP50 |
| TB080-212.156.11T | 80 mm | 0 ... 60 °C | 250 mm | Brass | IP50 |
| TB080-212.156.12T | 80 mm | 0 ... 100 °C | 250 mm | Brass | IP50 |
| TB080-212.156.13T | 80 mm | 0 ... 160 °C | 250 mm | Brass | IP50 |
| TB080-212.156.14T | 80 mm | 0 ... 250 °C | 250 mm | Brass | IP50 |
| TB080-212.156.20T | 80 mm | 0 ... 120 °C | 250 mm | Brass | IP50 |
| TB080-212.156.22T | 80 mm | 0 ... 200 °C | 250 mm | Brass | IP50 |
| TB080-212.156.27T | 80 mm | 0 ... 80 °C | 250 mm | Brass | IP50 |
| TB080-212.156.54T | 80 mm | -20 ... 60 °C | 250 mm | Brass | IP50 |
| TB080-212.157.11T | 80 mm | 0 ... 60 °C | 400 mm | Brass | IP50 |
| TB080-212.157.12T | 80 mm | 0 ... 100 °C | 400 mm | Brass | IP50 |
| TB080-212.157.13T | 80 mm | 0 ... 160 °C | 400 mm | Brass | IP50 |
| TB080-212.157.14T | 80 mm | 0 ... 250 °C | 400 mm | Brass | IP50 |
| TB080-212.157.22T | 80 mm | 0 ... 200 °C | 400 mm | Brass | IP50 |
| TB080-212.157.27T | 80 mm | 0 ... 80 °C | 400 mm | Brass | IP50 |
| TB080-212.157.52T | 80 mm | -20 ... 40 °C | 400 mm | Brass | IP50 |
| TB080-212.157.54T | 80 mm | -20 ... 60 °C | 400 mm | Brass | IP50 |
| TB080-212.162.10T | 80 mm | 0 ... 40 °C | 100 mm | Stainless steel | IP50 |
| TB080-212.162.11T | 80 mm | 0 ... 60 °C | 100 mm | Stainless steel | IP50 |
| TB080-212.162.12T | 80 mm | 0 ... 100 °C | 100 mm | Stainless steel | IP50 |
| TB080-212.162.13T | 80 mm | 0 ... 160 °C | 100 mm | Stainless steel | IP50 |
| TB080-212.162.27T | 80 mm | 0 ... 80 °C | 100 mm | Stainless steel | IP50 |
| TB080-212.152.22T | 80 mm | 0 ... 200 °C | 100 mm | Brass | IP50 |
| TB080-212.152.27T | 80 mm | 0 ... 80 °C | 100 mm | Brass | IP50 |
| TB080-212.152.53T | 80 mm | -10 ... 30 °C | 100 mm | Brass | IP50 |
| TB080-212.152.54T | 80 mm | -20 ... 60 °C | 100 mm | Brass | IP50 |
| TB080-212.154.10T | 80 mm | 0 ... 40 °C | 160 mm | Brass | IP50 |
| TB080-212.154.13T | 80 mm | 0 ... 160 °C | 160 mm | Brass | IP50 |
| TB080-212.154.14T | 80 mm | 0 ... 250 °C | 160 mm | Brass | IP50 |
| TB080-212.154.22T | 80 mm | 0 ... 200 °C | 160 mm | Brass | IP50 |
| TB080-212.154.27T | 80 mm | 0 ... 80 °C | 160 mm | Brass | IP50 |
| TB080-212.162.14T | 80 mm | 0 ... 250 °C | 100 mm | Stainless steel | IP50 |
| TB080-212.162.15T | 80 mm | 0 ... 400 °C | 100 mm | Stainless steel | IP50 |
| TB080-212.162.20T | 80 mm | 0 ... 120 °C | 100 mm | Stainless steel | IP50 |
| TB080-212.162.22T | 80 mm | 0 ... 200 °C | 100 mm | Stainless steel | IP50 |
| TB080-212.162.30T | 80 mm | 100 ... 500 °C | 100 mm | Stainless steel | IP50 |
| TB080-212.162.51T | 80 mm | -30 ... 70 °C | 100 mm | Stainless steel | IP50 |
| TB080-212.162.52T | 80 mm | -20 ... 40 °C | 100 mm | Stainless steel | IP50 |
| TB080-212.162.53T | 80 mm | -10 ... 30 °C | 100 mm | Stainless steel | IP50 |
| TB080-212.162.54T | 80 mm | -20 ... 60 °C | 100 mm | Stainless steel | IP50 |
| TB080-212.162.61T | 80 mm | -30 ... 30 °C | 100 mm | Stainless steel | IP50 |
| TB080-212.164.10T | 80 mm | 0 ... 40 °C | 160 mm | Stainless steel | IP50 |
| TB080-212.164.11T | 80 mm | 0 ... 60 °C | 160 mm | Stainless steel | IP50 |
| TB080-212.164.12T | 80 mm | 0 ... 100 °C | 160 mm | Stainless steel | IP50 |
| TB080-212.164.13T | 80 mm | 0 ... 160 °C | 160 mm | Stainless steel | IP50 |
| TB080-212.164.14T | 80 mm | 0 ... 250 °C | 160 mm | Stainless steel | IP50 |
| TB080-212.164.15T | 80 mm | 0 ... 400 °C | 160 mm | Stainless steel | IP50 |
| TB080-212.164.20T | 80 mm | 0 ... 120 °C | 160 mm | Stainless steel | IP50 |
| TB080-212.164.22T | 80 mm | 0 ... 200 °C | 160 mm | Stainless steel | IP50 |
| TB080-212.164.27T | 80 mm | 0 ... 80 °C | 160 mm | Stainless steel | IP50 |
| TB080-212.164.30T | 80 mm | 100 ... 500 °C | 160 mm | Stainless steel | IP50 |
| TB080-212.164.51T | 80 mm | -30 ... 70 °C | 160 mm | Stainless steel | IP50 |
| TB080-212.164.52T | 80 mm | -20 ... 40 °C | 160 mm | Stainless steel | IP50 |
| TB080-212.164.53T | 80 mm | -10 ... 30 °C | 160 mm | Stainless steel | IP50 |
| TB080-212.164.54T | 80 mm | -20 ... 60 °C | 160 mm | Stainless steel | IP50 |
| TB080-212.164.61T | 80 mm | -30 ... 30 °C | 160 mm | Stainless steel | IP50 |
| TB080-212.166.11T | 80 mm | 0 ... 60 °C | 250 mm | Stainless steel | IP50 |
| TB080-212.166.12T | 80 mm | 0 ... 100 °C | 250 mm | Stainless steel | IP50 |
| TB080-212.166.13T | 80 mm | 0 ... 160 °C | 250 mm | Stainless steel | IP50 |
| TB080-212.166.14T | 80 mm | 0 ... 250 °C | 250 mm | Stainless steel | IP50 |
| TB080-212.166.15T | 80 mm | 0 ... 400 °C | 250 mm | Stainless steel | IP50 |
| TB080-212.166.20T | 80 mm | 0 ... 120 °C | 250 mm | Stainless steel | IP50 |
| TB080-212.166.22T | 80 mm | 0 ... 200 °C | 250 mm | Stainless steel | IP50 |
| TB080-212.166.27T | 80 mm | 0 ... 80 °C | 250 mm | Stainless steel | IP50 |
| TB080-212.166.30T | 80 mm | 100 ... 500 °C | 250 mm | Stainless steel | IP50 |
| TB080-212.166.51T | 80 mm | -30 ... 70 °C | 250 mm | Stainless steel | IP50 |
| TB080-212.166.52T | 80 mm | -20 ... 40 °C | 250 mm | Stainless steel | IP50 |
| TB080-212.166.54T | 80 mm | -20 ... 60 °C | 250 mm | Stainless steel | IP50 |
| TB080-212.166.61T | 80 mm | -30 ... 30 °C | 250 mm | Stainless steel | IP50 |
| TB080-212.167.11T | 80 mm | 0 ... 60 °C | 400 mm | Stainless steel | IP50 |
| TB080-212.167.12T | 80 mm | 0 ... 100 °C | 400 mm | Stainless steel | IP50 |
| TB080-212.167.13T | 80 mm | 0 ... 160 °C | 400 mm | Stainless steel | IP50 |
| TB080-212.167.14T | 80 mm | 0 ... 250 °C | 400 mm | Stainless steel | IP50 |
| TB080-212.167.15T | 80 mm | 0 ... 400 °C | 400 mm | Stainless steel | IP50 |
| TB080-212.167.20T | 80 mm | 0 ... 120 °C | 400 mm | Stainless steel | IP50 |
| TB080-212.167.22T | 80 mm | 0 ... 200 °C | 400 mm | Stainless steel | IP50 |
| TB080-212.167.27T | 80 mm | 0 ... 80 °C | 400 mm | Stainless steel | IP50 |
| TB080-212.167.30T | 80 mm | 100 ... 500 °C | 400 mm | Stainless steel | IP50 |
| TB080-212.167.51T | 80 mm | -30 ... 70 °C | 400 mm | Stainless steel | IP50 |
| TB080-212.167.52T | 80 mm | -20 ... 40 °C | 400 mm | Stainless steel | IP50 |
| TB080-212.167.54T | 80 mm | -20 ... 60 °C | 400 mm | Stainless steel | IP50 |
| TB080-212.167.61T | 80 mm | -30 ... 30 °C | 400 mm | Stainless steel | IP50 |
| TB100-212.152.22T | 100 mm | 0 ... 200 °C | 100 mm | Brass | IP50 |
| TB100-212.152.61T | 100 mm | -30 ... 30 °C | 100 mm | Brass | IP50 |
| TB100-212.154.22T | 100 mm | 0 ... 200 °C | 160 mm | Brass | IP50 |
| TB100-212.154.27T | 100 mm | 0 ... 80 °C | 160 mm | Brass | IP50 |
| TB100-212.154.61T | 100 mm | -30 ... 30 °C | 160 mm | Brass | IP50 |
| TB100-212.156.22T | 100 mm | 0 ... 200 °C | 250 mm | Brass | IP50 |
| TB100-212.156.27T | 100 mm | 0 ... 80 °C | 250 mm | Brass | IP50 |
| TB100-212.156.54T | 100 mm | -20 ... 60 °C | 250 mm | Brass | IP50 |
| TB100-212.156.61T | 100 mm | -30 ... 30 °C | 250 mm | Brass | IP50 |
| TB100-212.157.13T | 100 mm | 0 ... 160 °C | 400 mm | Brass | IP50 |
| TB100-212.157.22T | 100 mm | 0 ... 200 °C | 400 mm | Brass | IP50 |
| TB100-212.157.27T | 100 mm | 0 ... 80 °C | 400 mm | Brass | IP50 |
| TB100-212.157.51T | 100 mm | -30 ... 70 °C | 400 mm | Brass | IP50 |
| TB100-212.157.54T | 100 mm | -20 ... 60 °C | 400 mm | Brass | IP50 |
| TB100-212.157.61T | 100 mm | -30 ... 30 °C | 400 mm | Brass | IP50 |
| TB100-212.162.10T | 100 mm | 0 ... 40 °C | 100 mm | Stainless steel | IP50 |
| TB100-212.162.11T | 100 mm | 0 ... 60 °C | 100 mm | Stainless steel | IP50 |
| TB100-212.162.12T | 100 mm | 0 ... 100 °C | 100 mm | Stainless steel | IP50 |
| TB100-212.162.13T | 100 mm | 0 ... 160 °C | 100 mm | Stainless steel | IP50 |
| TB100-212.162.14T | 100 mm | 0 ... 250 °C | 100 mm | Stainless steel | IP50 |
| TB100-212.162.15T | 100 mm | 0 ... 400 °C | 100 mm | Stainless steel | IP50 |
| TB100-212.162.22T | 100 mm | 0 ... 200 °C | 100 mm | Stainless steel | IP50 |
| TB100-212.162.27T | 100 mm | 0 ... 80 °C | 100 mm | Stainless steel | IP50 |
| TB100-212.162.30T | 100 mm | 100 ... 500 °C | 100 mm | Stainless steel | IP50 |
| TB100-212.162.51T | 100 mm | -30 ... 70 °C | 100 mm | Stainless steel | IP50 |
| TB100-212.162.52T | 100 mm | -20 ... 40 °C | 100 mm | Stainless steel | IP50 |
| TB100-212.162.53T | 100 mm | -10 ... 30 °C | 100 mm | Stainless steel | IP50 |
| TB100-212.162.54T | 100 mm | -20 ... 60 °C | 100 mm | Stainless steel | IP50 |
| TB100-212.162.61T | 100 mm | -30 ... 30 °C | 100 mm | Stainless steel | IP50 |
| TB100-212.164.10T | 100 mm | 0 ... 40 °C | 160 mm | Stainless steel | IP50 |
| TB100-212.164.11T | 100 mm | 0 ... 60 °C | 160 mm | Stainless steel | IP50 |
| TB100-212.164.12T | 100 mm | 0 ... 100 °C | 160 mm | Stainless steel | IP50 |
| TB100-212.164.13T | 100 mm | 0 ... 160 °C | 160 mm | Stainless steel | IP50 |
| TB100-212.164.14T | 100 mm | 0 ... 250 °C | 160 mm | Stainless steel | IP50 |
| TB100-212.164.15T | 100 mm | 0 ... 400 °C | 160 mm | Stainless steel | IP50 |
| TB100-212.164.20T | 100 mm | 0 ... 120 °C | 160 mm | Stainless steel | IP50 |
| TB100-212.164.22T | 100 mm | 0 ... 200 °C | 160 mm | Stainless steel | IP50 |
| TB100-212.164.27T | 100 mm | 0 ... 80 °C | 160 mm | Stainless steel | IP50 |
| TB100-212.164.30T | 100 mm | 100 ... 500 °C | 160 mm | Stainless steel | IP50 |
| TB100-212.164.51T | 100 mm | -30 ... 70 °C | 160 mm | Stainless steel | IP50 |
| TB100-212.164.52T | 100 mm | -20 ... 40 °C | 160 mm | Stainless steel | IP50 |
| TB100-212.164.53T | 100 mm | -10 ... 30 °C | 160 mm | Stainless steel | IP50 |
| TB100-212.164.54T | 100 mm | -20 ... 60 °C | 160 mm | Stainless steel | IP50 |
| TB100-212.164.61T | 100 mm | -30 ... 30 °C | 160 mm | Stainless steel | IP50 |
| TB100-212.166.11T | 100 mm | 0 ... 60 °C | 250 mm | Stainless steel | IP50 |
| TB100-212.166.12T | 100 mm | 0 ... 100 °C | 250 mm | Stainless steel | IP50 |
| TB100-212.166.13T | 100 mm | 0 ... 160 °C | 250 mm | Stainless steel | IP50 |
| TB100-212.166.14T | 100 mm | 0 ... 250 °C | 250 mm | Stainless steel | IP50 |
| TB100-212.166.15T | 100 mm | 0 ... 400 °C | 250 mm | Stainless steel | IP50 |
| TB100-212.166.20T | 100 mm | 0 ... 120 °C | 250 mm | Stainless steel | IP50 |
| TB100-212.166.22T | 100 mm | 0 ... 200 °C | 250 mm | Stainless steel | IP50 |
| TB100-212.166.27T | 100 mm | 0 ... 80 °C | 250 mm | Stainless steel | IP50 |
| TB100-212.166.30T | 100 mm | 100 ... 500 °C | 250 mm | Stainless steel | IP50 |
| TB100-212.166.51T | 100 mm | -30 ... 70 °C | 250 mm | Stainless steel | IP50 |
| TB100-212.166.52T | 100 mm | -20 ... 40 °C | 250 mm | Stainless steel | IP50 |
| TB100-212.166.54T | 100 mm | -20 ... 60 °C | 250 mm | Stainless steel | IP50 |
| TB100-212.166.61T | 100 mm | -30 ... 30 °C | 250 mm | Stainless steel | IP50 |
| TB100-212.167.11T | 100 mm | 0 ... 60 °C | 400 mm | Stainless steel | IP50 |
| TB100-212.167.12T | 100 mm | 0 ... 100 °C | 400 mm | Stainless steel | IP50 |
| TB100-212.167.13T | 100 mm | 0 ... 160 °C | 400 mm | Stainless steel | IP50 |
| TB100-212.167.14T | 100 mm | 0 ... 250 °C | 400 mm | Stainless steel | IP50 |
| TB100-212.167.15T | 100 mm | 0 ... 400 °C | 400 mm | Stainless steel | IP50 |
| TB100-212.167.20T | 100 mm | 0 ... 120 °C | 400 mm | Stainless steel | IP50 |
| TB100-212.167.22T | 100 mm | 0 ... 200 °C | 400 mm | Stainless steel | IP50 |
| TB100-212.167.27T | 100 mm | 0 ... 80 °C | 400 mm | Stainless steel | IP50 |
| TB100-212.167.30T | 100 mm | 100 ... 500 °C | 400 mm | Stainless steel | IP50 |
| TB100-212.167.51T | 100 mm | -30 ... 70 °C | 400 mm | Stainless steel | IP50 |
| TB100-212.167.52T | 100 mm | -20 ... 40 °C | 400 mm | Stainless steel | IP50 |
| TB100-212.167.54T | 100 mm | -20 ... 60 °C | 400 mm | Stainless steel | IP50 |
| TB100-212.167.61T | 100 mm | -30 ... 30 °C | 400 mm | Stainless steel | IP50 |
| TBH080-212.151.14T | 80 mm | 0 ... 250 °C | 48 mm | Brass | IP50 |
| TBH080-212.151.27T | 80 mm | 0 ... 80 °C | 48 mm | Brass | IP50 |
| TBH080-212.151.54T | 80 mm | -20 ... 60 °C | 48 mm | Brass | IP50 |
| TBH080-212.152.10T | 80 mm | 0 ... 40 °C | 68 mm | Brass | IP50 |
| TBH080-212.152.14T | 80 mm | 0 ... 250 °C | 68 mm | Brass | IP50 |
| TBH080-212.152.27T | 80 mm | 0 ... 80 °C | 68 mm | Brass | IP50 |
| TBH080-212.152.53T | 80 mm | -10 ... 30 °C | 68 mm | Brass | IP50 |
| TBH080-212.152.54T | 80 mm | -20 ... 60 °C | 68 mm | Brass | IP50 |
| TBH080-212.153.10T | 80 mm | 0 ... 40 °C | 88 mm | Brass | IP50 |
| TBH080-212.153.14T | 80 mm | 0 ... 250 °C | 88 mm | Brass | IP50 |
| TBH080-212.153.27T | 80 mm | 0 ... 80 °C | 88 mm | Brass | IP50 |
| TBH080-212.153.53T | 80 mm | -10 ... 30 °C | 88 mm | Brass | IP50 |
| TBH080-212.153.54T | 80 mm | -20 ... 60 °C | 88 mm | Brass | IP50 |
| TBH100-212.151.14T | 100 mm | 0 ... 250 °C | 48 mm | Brass | IP50 |
| TBH100-212.151.27T | 100 mm | 0 ... 80 °C | 48 mm | Brass | IP50 |
| TBH100-212.151.54T | 100 mm | -20 ... 60 °C | 48 mm | Brass | IP50 |
| TBH100-212.152.10T | 100 mm | 0 ... 40 °C | 68 mm | Brass | IP50 |
| TBH100-212.152.14T | 100 mm | 0 ... 250 °C | 68 mm | Brass | IP50 |
| TBH100-212.152.27T | 100 mm | 0 ... 80 °C | 68 mm | Brass | IP50 |
| TBH100-212.152.53T | 100 mm | -10 ... 30 °C | 68 mm | Brass | IP50 |
| TBH100-212.152.54T | 100 mm | -20 ... 60 °C | 68 mm | Brass | IP50 |
| TBH100-212.153.10T | 100 mm | 0 ... 40 °C | 88 mm | Brass | IP50 |
| TBH100-212.153.14T | 100 mm | 0 ... 250 °C | 88 mm | Brass | IP50 |
| TBH100-212.153.27T | 100 mm | 0 ... 80 °C | 88 mm | Brass | IP50 |
| TBH100-212.153.53T | 100 mm | -10 ... 30 °C | 88 mm | Brass | IP50 |
| TBH100-212.153.54T | 100 mm | -20 ... 60 °C | 88 mm | Brass | IP50 |
| TBHA080-212.161.13T | 80 mm | 0 ... 160 °C | 55 mm | Stainless steel | IP50 |
| TBHA080-212.161.52T | 80 mm | -20 ... 40 °C | 55 mm | Stainless steel | IP50 |
| TBHA080-212.163.11T | 80 mm | 0 ... 60 °C | 95 mm | Stainless steel | IP50 |
| TBHA080-212.163.12T | 80 mm | 0 ... 100 °C | 95 mm | Stainless steel | IP50 |
| TBHA080-212.163.13T | 80 mm | 0 ... 160 °C | 95 mm | Stainless steel | IP50 |
| TBHA080-212.163.20T | 80 mm | 0 ... 120 °C | 95 mm | Stainless steel | IP50 |
| TBHA080-212.163.27T | 80 mm | 0 ... 80 °C | 95 mm | Stainless steel | IP50 |
| TBHA080-212.163.52T | 80 mm | -20 ... 40 °C | 95 mm | Stainless steel | IP50 |
| TBHA080-212.164.11T | 80 mm | 0 ... 60 °C | 115 mm | Stainless steel | IP50 |
| TBHA080-212.164.12T | 80 mm | 0 ... 100 °C | 115 mm | Stainless steel | IP50 |
| TBHA080-212.164.13T | 80 mm | 0 ... 160 °C | 115 mm | Stainless steel | IP50 |
| TBHA080-212.164.20T | 80 mm | 0 ... 120 °C | 115 mm | Stainless steel | IP50 |
| TBHA080-212.164.52T | 80 mm | -20 ... 40 °C | 115 mm | Stainless steel | IP50 |
| TBHA100-212.163.11T | 100 mm | 0 ... 60 °C | 95 mm | Stainless steel | IP50 |
| TBHA100-212.163.12T | 100 mm | 0 ... 100 °C | 95 mm | Stainless steel | IP50 |
| TBHA100-212.163.20T | 100 mm | 0 ... 120 °C | 95 mm | Stainless steel | IP50 |
| TBHA100-212.163.27T | 100 mm | 0 ... 80 °C | 95 mm | Stainless steel | IP50 |
| TBHA100-212.164.11T | 100 mm | 0 ... 60 °C | 115 mm | Stainless steel | IP50 |
| TBHA100-212.164.12T | 100 mm | 0 ... 100 °C | 115 mm | Stainless steel | IP50 |
| TBHA100-212.164.20T | 100 mm | 0 ... 120 °C | 115 mm | Stainless steel | IP50 |
| TBI100-211.162.11T | 100 mm | 0 ... 60 °C | 100 mm | Stainless steel | IP67 |
| TBI100-211.162.12T | 100 mm | 0 ... 100 °C | 100 mm | Stainless steel | IP67 |
| TBI100-211.162.13T | 100 mm | 0 ... 160 °C | 100 mm | Stainless steel | IP67 |
| TBI100-211.162.14T | 100 mm | 0 ... 250 °C | 100 mm | Stainless steel | IP67 |
| TBI100-211.162.15T | 100 mm | 0 ... 400 °C | 100 mm | Stainless steel | IP67 |
| TBI100-211.162.16T | 100 mm | 0 ... 600 °C | 100 mm | Stainless steel | IP67 |
| TBI100-211.162.20T | 100 mm | 0 ... 120 °C | 100 mm | Stainless steel | IP67 |
| TBI100-211.162.22T | 100 mm | 0 ... 200 °C | 100 mm | Stainless steel | IP67 |
| TBI100-211.162.25T | 100 mm | 0 ... 500 °C | 100 mm | Stainless steel | IP67 |
| TBI100-211.162.27T | 100 mm | 0 ... 80 °C | 100 mm | Stainless steel | IP67 |
| TBI100-211.162.84T | 100 mm | -20 ... 100 °C | 100 mm | Stainless steel | IP67 |
| TBI100-211.164.11T | 100 mm | 0 ... 60 °C | 160 mm | Stainless steel | IP67 |
| TBI100-211.164.12T | 100 mm | 0 ... 100 °C | 160 mm | Stainless steel | IP67 |
| TBI100-211.164.13T | 100 mm | 0 ... 160 °C | 160 mm | Stainless steel | IP67 |
| TBI100-211.164.14T | 100 mm | 0 ... 250 °C | 160 mm | Stainless steel | IP67 |
| TBI100-211.164.15T | 100 mm | 0 ... 400 °C | 160 mm | Stainless steel | IP67 |
| TBI100-211.164.16T | 100 mm | 0 ... 600 °C | 160 mm | Stainless steel | IP67 |
| TBI100-211.164.20T | 100 mm | 0 ... 120 °C | 160 mm | Stainless steel | IP67 |
| TBI100-211.164.22T | 100 mm | 0 ... 200 °C | 160 mm | Stainless steel | IP67 |
| TBI100-211.164.25T | 100 mm | 0 ... 500 °C | 160 mm | Stainless steel | IP67 |
| TBI100-211.164.27T | 100 mm | 0 ... 80 °C | 160 mm | Stainless steel | IP67 |
| TBI100-211.164.51T | 100 mm | -30 ... 70 °C | 160 mm | Stainless steel | IP67 |
| TBI100-211.164.52T | 100 mm | -20 ... 40 °C | 160 mm | Stainless steel | IP67 |
| TBI100-211.164.54T | 100 mm | -20 ... 60 °C | 160 mm | Stainless steel | IP67 |
| TBI100-211.164.55T | 100 mm | -30 ... 170 °C | 160 mm | Stainless steel | IP67 |
| TBI100-211.164.68T | 100 mm | -70 ... 50 °C | 160 mm | Stainless steel | IP67 |
| TBI100-211.164.84T | 100 mm | -20 ... 100 °C | 160 mm | Stainless steel | IP67 |
| TBI100-211.166.11T | 100 mm | 0 ... 60 °C | 250 mm | Stainless steel | IP67 |
| TBI100-211.166.12T | 100 mm | 0 ... 100 °C | 250 mm | Stainless steel | IP67 |
| TBI100-211.166.13T | 100 mm | 0 ... 160 °C | 250 mm | Stainless steel | IP67 |
| TBI100-211.166.14T | 100 mm | 0 ... 250 °C | 250 mm | Stainless steel | IP67 |
| TBI100-211.166.15T | 100 mm | 0 ... 400 °C | 250 mm | Stainless steel | IP67 |
| TBI100-211.166.16T | 100 mm | 0 ... 600 °C | 250 mm | Stainless steel | IP67 |
| TBI100-211.166.20T | 100 mm | 0 ... 120 °C | 250 mm | Stainless steel | IP67 |
| TBI100-211.166.22T | 100 mm | 0 ... 200 °C | 250 mm | Stainless steel | IP67 |
| TBI100-211.166.25T | 100 mm | 0 ... 500 °C | 250 mm | Stainless steel | IP67 |
| TBI100-211.166.27T | 100 mm | 0 ... 80 °C | 250 mm | Stainless steel | IP67 |
| TBI100-211.166.51T | 100 mm | -30 ... 70 °C | 250 mm | Stainless steel | IP67 |
| TBI100-211.166.52T | 100 mm | -20 ... 40 °C | 250 mm | Stainless steel | IP67 |
| TBI100-211.166.54T | 100 mm | -20 ... 60 °C | 250 mm | Stainless steel | IP67 |
| TBI100-211.166.55T | 100 mm | -30 ... 170 °C | 250 mm | Stainless steel | IP67 |
| TBI100-211.167.22T | 100 mm | 0 ... 200 °C | 400 mm | Stainless steel | IP67 |
| TBI100-211.167.25T | 100 mm | 0 ... 500 °C | 400 mm | Stainless steel | IP67 |
| TBI100-211.167.27T | 100 mm | 0 ... 80 °C | 400 mm | Stainless steel | IP67 |
| TBI100-211.167.51T | 100 mm | -30 ... 70 °C | 400 mm | Stainless steel | IP67 |
| TBI100-211.167.52T | 100 mm | -20 ... 40 °C | 400 mm | Stainless steel | IP67 |
| TBI100-211.167.54T | 100 mm | -20 ... 60 °C | 400 mm | Stainless steel | IP67 |
| TBI100-211.167.55T | 100 mm | -30 ... 170 °C | 400 mm | Stainless steel | IP67 |
| TBI100-211.167.68T | 100 mm | -70 ... 50 °C | 400 mm | Stainless steel | IP67 |
| TBI100-211.167.84T | 100 mm | -20 ... 100 °C | 400 mm | Stainless steel | IP67 |
| TBI100-212.162.10T | 100 mm | 0 ... 40 °C | 100 mm | Stainless steel | IP67 |
| TBI100-212.162.11T | 100 mm | 0 ... 60 °C | 100 mm | Stainless steel | IP67 |
| TBI100-212.162.12T | 100 mm | 0 ... 100 °C | 100 mm | Stainless steel | IP67 |
| TBI100-212.162.13T | 100 mm | 0 ... 160 °C | 100 mm | Stainless steel | IP67 |
| TBI100-212.162.14T | 100 mm | 0 ... 250 °C | 100 mm | Stainless steel | IP67 |
| TBI100-212.162.15T | 100 mm | 0 ... 400 °C | 100 mm | Stainless steel | IP67 |
| TBI100-212.162.16T | 100 mm | 0 ... 600 °C | 100 mm | Stainless steel | IP67 |
| TBI100-212.162.20T | 100 mm | 0 ... 120 °C | 100 mm | Stainless steel | IP67 |
| TBI100-212.162.22T | 100 mm | 0 ... 200 °C | 100 mm | Stainless steel | IP67 |
| TBI100-212.162.25T | 100 mm | 0 ... 500 °C | 100 mm | Stainless steel | IP67 |
| TBI100-212.162.27T | 100 mm | 0 ... 80 °C | 100 mm | Stainless steel | IP67 |
| TBI100-212.162.51T | 100 mm | -30 ... 70 °C | 100 mm | Stainless steel | IP67 |
| TBI100-212.162.53T | 100 mm | -10 ... 30 °C | 100 mm | Stainless steel | IP67 |
| TBI100-212.162.54T | 100 mm | -20 ... 60 °C | 100 mm | Stainless steel | IP67 |
| TBI100-212.162.55T | 100 mm | -30 ... 170 °C | 100 mm | Stainless steel | IP67 |
| TBI100-212.162.68T | 100 mm | -70 ... 50 °C | 100 mm | Stainless steel | IP67 |
| TBI100-212.162.84T | 100 mm | -20 ... 100 °C | 100 mm | Stainless steel | IP67 |
| TBI100-212.164.10T | 100 mm | 0 ... 40 °C | 160 mm | Stainless steel | IP67 |
| TBI100-212.164.11T | 100 mm | 0 ... 60 °C | 160 mm | Stainless steel | IP67 |
| TBI100-212.164.12T | 100 mm | 0 ... 100 °C | 160 mm | Stainless steel | IP67 |
| TBHA080-212.162.13T | 80 mm | 0 ... 160 °C | 75 mm | Stainless steel | IP50 |
| TBHA080-212.162.52T | 80 mm | -20 ... 40 °C | 75 mm | Stainless steel | IP50 |
| TBI100-211.162.51T | 100 mm | -30 ... 70 °C | 100 mm | Stainless steel | IP67 |
| TBI100-211.162.52T | 100 mm | -20 ... 40 °C | 100 mm | Stainless steel | IP67 |
| TBI100-211.162.54T | 100 mm | -20 ... 60 °C | 100 mm | Stainless steel | IP67 |
| TBI100-211.162.55T | 100 mm | -30 ... 170 °C | 100 mm | Stainless steel | IP67 |
| TBI100-211.162.68T | 100 mm | -70 ... 50 °C | 100 mm | Stainless steel | IP67 |
| TBI100-211.166.68T | 100 mm | -70 ... 50 °C | 250 mm | Stainless steel | IP67 |
| TBI100-211.166.84T | 100 mm | -20 ... 100 °C | 250 mm | Stainless steel | IP67 |
| TBI100-211.167.11T | 100 mm | 0 ... 60 °C | 400 mm | Stainless steel | IP67 |
| TBI100-211.167.12T | 100 mm | 0 ... 100 °C | 400 mm | Stainless steel | IP67 |
| TBI100-211.167.13T | 100 mm | 0 ... 160 °C | 400 mm | Stainless steel | IP67 |
| TBI100-211.167.14T | 100 mm | 0 ... 250 °C | 400 mm | Stainless steel | IP67 |
| TBI100-211.167.15T | 100 mm | 0 ... 400 °C | 400 mm | Stainless steel | IP67 |
| TBI100-211.167.16T | 100 mm | 0 ... 600 °C | 400 mm | Stainless steel | IP67 |
| TBI100-211.167.20T | 100 mm | 0 ... 120 °C | 400 mm | Stainless steel | IP67 |
| TBI100-212.164.14T | 100 mm | 0 ... 250 °C | 160 mm | Stainless steel | IP67 |
| TBI100-212.164.15T | 100 mm | 0 ... 400 °C | 160 mm | Stainless steel | IP67 |
| TBI100-212.164.16T | 100 mm | 0 ... 600 °C | 160 mm | Stainless steel | IP67 |
| TBI100-212.164.20T | 100 mm | 0 ... 120 °C | 160 mm | Stainless steel | IP67 |
| TBI100-212.164.22T | 100 mm | 0 ... 200 °C | 160 mm | Stainless steel | IP67 |
| TBI100-212.164.25T | 100 mm | 0 ... 500 °C | 160 mm | Stainless steel | IP67 |
| TBI100-212.164.27T | 100 mm | 0 ... 80 °C | 160 mm | Stainless steel | IP67 |
| TBI100-212.164.51T | 100 mm | -30 ... 70 °C | 160 mm | Stainless steel | IP67 |
| TBI100-212.164.52T | 100 mm | -20 ... 40 °C | 160 mm | Stainless steel | IP67 |
| TBI100-212.167.25T | 100 mm | 0 ... 500 °C | 400 mm | Stainless steel | IP67 |
| TBI100-212.167.27T | 100 mm | 0 ... 80 °C | 400 mm | Stainless steel | IP67 |
| TBI100-212.167.51T | 100 mm | -30 ... 70 °C | 400 mm | Stainless steel | IP67 |
| TBI100-212.167.52T | 100 mm | -20 ... 40 °C | 400 mm | Stainless steel | IP67 |
| TBI100-214.164.20T | 100 mm | 0 ... 120 °C | 160 mm | Stainless steel | IP67 |
| TBI100-214.164.22T | 100 mm | 0 ... 200 °C | 160 mm | Stainless steel | IP67 |
| TBI100-214.164.25T | 100 mm | 0 ... 500 °C | 160 mm | Stainless steel | IP67 |
| TBI100-214.167.15T | 100 mm | 0 ... 400 °C | 400 mm | Stainless steel | IP67 |
| TBI100-214.167.16T | 100 mm | 0 ... 600 °C | 400 mm | Stainless steel | IP67 |
| TBI100-214.167.20T | 100 mm | 0 ... 120 °C | 400 mm | Stainless steel | IP67 |
| TBI100-212.164.53T | 100 mm | -10 ... 30 °C | 160 mm | Stainless steel | IP67 |
| TBI100-212.164.54T | 100 mm | -20 ... 60 °C | 160 mm | Stainless steel | IP67 |
| TBI100-212.167.54T | 100 mm | -20 ... 60 °C | 400 mm | Stainless steel | IP67 |
| TBI100-212.167.55T | 100 mm | -30 ... 170 °C | 400 mm | Stainless steel | IP67 |
| TBI100-214.164.27T | 100 mm | 0 ... 80 °C | 160 mm | Stainless steel | IP67 |
| TBI100-214.164.51T | 100 mm | -30 ... 70 °C | 160 mm | Stainless steel | IP67 |
| TBI100-214.167.22T | 100 mm | 0 ... 200 °C | 400 mm | Stainless steel | IP67 |
| TBI100-214.167.25T | 100 mm | 0 ... 500 °C | 400 mm | Stainless steel | IP67 |
| TBI100-214.164.52T | 100 mm | -20 ... 40 °C | 160 mm | Stainless steel | IP67 |
| TBI100-214.167.27T | 100 mm | 0 ... 80 °C | 400 mm | Stainless steel | IP67 |
| TBI100-212.167.68T | 100 mm | -70 ... 50 °C | 400 mm | Stainless steel | IP67 |
| TBI100-212.164.55T | 100 mm | -30 ... 170 °C | 160 mm | Stainless steel | IP67 |
| TBI100-212.167.84T | 100 mm | -20 ... 100 °C | 400 mm | Stainless steel | IP67 |
| TBI100-214.164.54T | 100 mm | -20 ... 60 °C | 160 mm | Stainless steel | IP67 |
| TBI100-214.167.51T | 100 mm | -30 ... 70 °C | 400 mm | Stainless steel | IP67 |
| TBI100-212.164.68T | 100 mm | -70 ... 50 °C | 160 mm | Stainless steel | IP67 |
| TBI100-214.162.11T | 100 mm | 0 ... 60 °C | 100 mm | Stainless steel | IP67 |
| TBI100-214.164.55T | 100 mm | -30 ... 170 °C | 160 mm | Stainless steel | IP67 |
| TBI100-214.167.52T | 100 mm | -20 ... 40 °C | 400 mm | Stainless steel | IP67 |
| TBI100-212.164.84T | 100 mm | -20 ... 100 °C | 160 mm | Stainless steel | IP67 |
| TBI100-214.167.54T | 100 mm | -20 ... 60 °C | 400 mm | Stainless steel | IP67 |
| TBI100-214.162.12T | 100 mm | 0 ... 100 °C | 100 mm | Stainless steel | IP67 |
| TBI100-214.164.68T | 100 mm | -70 ... 50 °C | 160 mm | Stainless steel | IP67 |
| TBI100-212.166.11T | 100 mm | 0 ... 60 °C | 250 mm | Stainless steel | IP67 |
| TBI100-214.167.55T | 100 mm | -30 ... 170 °C | 400 mm | Stainless steel | IP67 |
| TBI100-214.162.13T | 100 mm | 0 ... 160 °C | 100 mm | Stainless steel | IP67 |
| TBI100-214.164.84T | 100 mm | -20 ... 100 °C | 160 mm | Stainless steel | IP67 |
| TBI100-212.166.12T | 100 mm | 0 ... 100 °C | 250 mm | Stainless steel | IP67 |
| TBI100-214.167.68T | 100 mm | -70 ... 50 °C | 400 mm | Stainless steel | IP67 |
| TBI100-214.162.14T | 100 mm | 0 ... 250 °C | 100 mm | Stainless steel | IP67 |
| TBI100-214.166.11T | 100 mm | 0 ... 60 °C | 250 mm | Stainless steel | IP67 |
| TBI100-212.166.13T | 100 mm | 0 ... 160 °C | 250 mm | Stainless steel | IP67 |
| TBI100-214.167.84T | 100 mm | -20 ... 100 °C | 400 mm | Stainless steel | IP67 |
| TBI100-214.162.15T | 100 mm | 0 ... 400 °C | 100 mm | Stainless steel | IP67 |
| TBI100-214.166.12T | 100 mm | 0 ... 100 °C | 250 mm | Stainless steel | IP67 |
| TBI100-212.166.14T | 100 mm | 0 ... 250 °C | 250 mm | Stainless steel | IP67 |
| TBI100-214.162.16T | 100 mm | 0 ... 600 °C | 100 mm | Stainless steel | IP67 |
| TBI100-214.166.13T | 100 mm | 0 ... 160 °C | 250 mm | Stainless steel | IP67 |
| TBI100-212.166.15T | 100 mm | 0 ... 400 °C | 250 mm | Stainless steel | IP67 |
| TBHA080-212.164.27T | 80 mm | 0 ... 80 °C | 115 mm | Stainless steel | IP50 |
| TBI100-214.162.20T | 100 mm | 0 ... 120 °C | 100 mm | Stainless steel | IP67 |
| TBI100-214.166.14T | 100 mm | 0 ... 250 °C | 250 mm | Stainless steel | IP67 |
| TBHA100-212.161.52T | 100 mm | -20 ... 40 °C | 55 mm | Stainless steel | IP50 |
| TBI100-212.166.16T | 100 mm | 0 ... 600 °C | 250 mm | Stainless steel | IP67 |
| TBHA100-212.161.13T | 100 mm | 0 ... 160 °C | 55 mm | Stainless steel | IP50 |
| TBI100-214.162.22T | 100 mm | 0 ... 200 °C | 100 mm | Stainless steel | IP67 |
| TBI100-214.166.15T | 100 mm | 0 ... 400 °C | 250 mm | Stainless steel | IP67 |
| TBI100-212.166.20T | 100 mm | 0 ... 120 °C | 250 mm | Stainless steel | IP67 |
| TBI100-214.166.16T | 100 mm | 0 ... 600 °C | 250 mm | Stainless steel | IP67 |
| TBI100-214.162.25T | 100 mm | 0 ... 500 °C | 100 mm | Stainless steel | IP67 |
| TBI100-212.166.22T | 100 mm | 0 ... 200 °C | 250 mm | Stainless steel | IP67 |
| TBHA100-212.162.52T | 100 mm | -20 ... 40 °C | 75 mm | Stainless steel | IP50 |
| TBI100-214.166.20T | 100 mm | 0 ... 120 °C | 250 mm | Stainless steel | IP67 |
| TBHA100-212.162.13T | 100 mm | 0 ... 160 °C | 75 mm | Stainless steel | IP50 |
| TBI100-214.162.27T | 100 mm | 0 ... 80 °C | 100 mm | Stainless steel | IP67 |
| TBI100-212.166.25T | 100 mm | 0 ... 500 °C | 250 mm | Stainless steel | IP67 |
| TBI100-214.166.22T | 100 mm | 0 ... 200 °C | 250 mm | Stainless steel | IP67 |
| TBHA100-212.163.52T | 100 mm | -20 ... 40 °C | 95 mm | Stainless steel | IP50 |
| TBI100-214.162.51T | 100 mm | -30 ... 70 °C | 100 mm | Stainless steel | IP67 |
| TBI100-212.166.27T | 100 mm | 0 ... 80 °C | 250 mm | Stainless steel | IP67 |
| TBHA100-212.163.13T | 100 mm | 0 ... 160 °C | 95 mm | Stainless steel | IP50 |
| TBI100-214.166.25T | 100 mm | 0 ... 500 °C | 250 mm | Stainless steel | IP67 |
| TBI100-214.162.52T | 100 mm | -20 ... 40 °C | 100 mm | Stainless steel | IP67 |
| TBI100-212.166.51T | 100 mm | -30 ... 70 °C | 250 mm | Stainless steel | IP67 |
| TBI100-214.166.27T | 100 mm | 0 ... 80 °C | 250 mm | Stainless steel | IP67 |
| TBHA100-212.164.52T | 100 mm | -20 ... 40 °C | 115 mm | Stainless steel | IP50 |
| TBI100-214.162.54T | 100 mm | -20 ... 60 °C | 100 mm | Stainless steel | IP67 |
| TBHA100-212.164.13T | 100 mm | 0 ... 160 °C | 115 mm | Stainless steel | IP50 |
| TBI100-212.166.52T | 100 mm | -20 ... 40 °C | 250 mm | Stainless steel | IP67 |
| TBI100-214.166.51T | 100 mm | -30 ... 70 °C | 250 mm | Stainless steel | IP67 |
| TBI100-214.162.55T | 100 mm | -30 ... 170 °C | 100 mm | Stainless steel | IP67 |
| TBHA100-212.164.27T | 100 mm | 0 ... 80 °C | 115 mm | Stainless steel | IP50 |
| TBI100-212.166.54T | 100 mm | -20 ... 60 °C | 250 mm | Stainless steel | IP67 |
| TBI100-214.166.52T | 100 mm | -20 ... 40 °C | 250 mm | Stainless steel | IP67 |
| TBI100-214.162.68T | 100 mm | -70 ... 50 °C | 100 mm | Stainless steel | IP67 |
| TBI100-214.166.54T | 100 mm | -20 ... 60 °C | 250 mm | Stainless steel | IP67 |
| TBI100-212.166.55T | 100 mm | -30 ... 170 °C | 250 mm | Stainless steel | IP67 |
| TBI100-214.162.84T | 100 mm | -20 ... 100 °C | 100 mm | Stainless steel | IP67 |
| TBI100-214.166.55T | 100 mm | -30 ... 170 °C | 250 mm | Stainless steel | IP67 |
| TBI100-212.166.68T | 100 mm | -70 ... 50 °C | 250 mm | Stainless steel | IP67 |
| TBI100-214.164.11T | 100 mm | 0 ... 60 °C | 160 mm | Stainless steel | IP67 |
| TBI100-214.166.68T | 100 mm | -70 ... 50 °C | 250 mm | Stainless steel | IP67 |
| TBI100-214.164.12T | 100 mm | 0 ... 100 °C | 160 mm | Stainless steel | IP67 |
| TBI100-212.166.84T | 100 mm | -20 ... 100 °C | 250 mm | Stainless steel | IP67 |
| TBI100-214.166.84T | 100 mm | -20 ... 100 °C | 250 mm | Stainless steel | IP67 |
| TBI100-214.164.13T | 100 mm | 0 ... 160 °C | 160 mm | Stainless steel | IP67 |
| TBI100-212.167.11T | 100 mm | 0 ... 60 °C | 400 mm | Stainless steel | IP67 |
| TBI100-214.167.11T | 100 mm | 0 ... 60 °C | 400 mm | Stainless steel | IP67 |
| TBI100-214.164.14T | 100 mm | 0 ... 250 °C | 160 mm | Stainless steel | IP67 |
| TBI100-212.167.12T | 100 mm | 0 ... 100 °C | 400 mm | Stainless steel | IP67 |
| TBI100-214.167.12T | 100 mm | 0 ... 100 °C | 400 mm | Stainless steel | IP67 |
| TBI100-214.164.15T | 100 mm | 0 ... 400 °C | 160 mm | Stainless steel | IP67 |
| TBI100-212.167.13T | 100 mm | 0 ... 160 °C | 400 mm | Stainless steel | IP67 |
| TBI100-214.167.13T | 100 mm | 0 ... 160 °C | 400 mm | Stainless steel | IP67 |
| TBI100-214.164.16T | 100 mm | 0 ... 600 °C | 160 mm | Stainless steel | IP67 |
| TBI100-212.167.14T | 100 mm | 0 ... 250 °C | 400 mm | Stainless steel | IP67 |
| TBI100-214.167.14T | 100 mm | 0 ... 250 °C | 400 mm | Stainless steel | IP67 |
| TBI100-212.167.15T | 100 mm | 0 ... 400 °C | 400 mm | Stainless steel | IP67 |
| TBI100-212.167.16T | 100 mm | 0 ... 600 °C | 400 mm | Stainless steel | IP67 |
| TBI100-212.167.20T | 100 mm | 0 ... 120 °C | 400 mm | Stainless steel | IP67 |
| TBI100-212.167.22T | 100 mm | 0 ... 200 °C | 400 mm | Stainless steel | IP67 |
| TB080-212.152.11T | 80 mm | 0 ... 60 °C | 100 mm | Brass | IP50 |
| TB080-212.152.12T | 80 mm | 0 ... 100 °C | 100 mm | Brass | IP50 |
| TB080-212.152.13T | 80 mm | 0 ... 160 °C | 100 mm | Brass | IP50 |
| TB080-212.156.52T | 80 mm | -20 ... 40 °C | 250 mm | Brass | IP50 |
| TB080-212.157.20T | 80 mm | 0 ... 120 °C | 400 mm | Brass | IP50 |
| TB080-212.152.20T | 80 mm | 0 ... 120 °C | 100 mm | Brass | IP50 |
| TB080-212.152.52T | 80 mm | -20 ... 40 °C | 100 mm | Brass | IP50 |
| TB080-212.154.11T | 80 mm | 0 ... 60 °C | 160 mm | Brass | IP50 |
| TB080-212.154.12T | 80 mm | 0 ... 100 °C | 160 mm | Brass | IP50 |
| TB080-212.154.20T | 80 mm | 0 ... 120 °C | 160 mm | Brass | IP50 |
| TB080-212.154.52T | 80 mm | -20 ... 40 °C | 160 mm | Brass | IP50 |
| TB100-212.152.10T | 100 mm | 0 ... 40 °C | 100 mm | Brass | IP50 |
| TB100-212.152.11T | 100 mm | 0 ... 60 °C | 100 mm | Brass | IP50 |
| TB100-212.152.12T | 100 mm | 0 ... 100 °C | 100 mm | Brass | IP50 |
| TB100-212.152.13T | 100 mm | 0 ... 160 °C | 100 mm | Brass | IP50 |
| TB100-212.152.14T | 100 mm | 0 ... 250 °C | 100 mm | Brass | IP50 |
| TB100-212.152.20T | 100 mm | 0 ... 120 °C | 100 mm | Brass | IP50 |
| TB100-212.152.27T | 100 mm | 0 ... 80 °C | 100 mm | Brass | IP50 |
| TB100-212.152.51T | 100 mm | -30 ... 70 °C | 100 mm | Brass | IP50 |
| TB100-212.152.52T | 100 mm | -20 ... 40 °C | 100 mm | Brass | IP50 |
| TB100-212.152.53T | 100 mm | -10 ... 30 °C | 100 mm | Brass | IP50 |
| TB100-212.152.54T | 100 mm | -20 ... 60 °C | 100 mm | Brass | IP50 |
| TB100-212.154.10T | 100 mm | 0 ... 40 °C | 160 mm | Brass | IP50 |
| TB100-212.154.11T | 100 mm | 0 ... 60 °C | 160 mm | Brass | IP50 |
| TB100-212.154.12T | 100 mm | 0 ... 100 °C | 160 mm | Brass | IP50 |
| TB100-212.154.13T | 100 mm | 0 ... 160 °C | 160 mm | Brass | IP50 |
| TB100-212.154.14T | 100 mm | 0 ... 250 °C | 160 mm | Brass | IP50 |
| TB100-212.154.20T | 100 mm | 0 ... 120 °C | 160 mm | Brass | IP50 |
| TB100-212.154.51T | 100 mm | -30 ... 70 °C | 160 mm | Brass | IP50 |
| TB100-212.154.52T | 100 mm | -20 ... 40 °C | 160 mm | Brass | IP50 |
| TB100-212.154.53T | 100 mm | -10 ... 30 °C | 160 mm | Brass | IP50 |
| TB100-212.154.54T | 100 mm | -20 ... 60 °C | 160 mm | Brass | IP50 |
| TB100-212.156.11T | 100 mm | 0 ... 60 °C | 250 mm | Brass | IP50 |
| TB100-212.156.12T | 100 mm | 0 ... 100 °C | 250 mm | Brass | IP50 |
| TB100-212.156.13T | 100 mm | 0 ... 160 °C | 250 mm | Brass | IP50 |
| TB100-212.156.14T | 100 mm | 0 ... 250 °C | 250 mm | Brass | IP50 |
| TB100-212.156.20T | 100 mm | 0 ... 120 °C | 250 mm | Brass | IP50 |
| TB100-212.156.51T | 100 mm | -30 ... 70 °C | 250 mm | Brass | IP50 |
| TB100-212.156.52T | 100 mm | -20 ... 40 °C | 250 mm | Brass | IP50 |
| TB100-212.157.11T | 100 mm | 0 ... 60 °C | 400 mm | Brass | IP50 |
| TB100-212.157.12T | 100 mm | 0 ... 100 °C | 400 mm | Brass | IP50 |
| TB100-212.157.14T | 100 mm | 0 ... 250 °C | 400 mm | Brass | IP50 |
| TB100-212.157.20T | 100 mm | 0 ... 120 °C | 400 mm | Brass | IP50 |
| TB100-212.157.52T | 100 mm | -20 ... 40 °C | 400 mm | Brass | IP50 |
| TB100-212.162.20T | 100 mm | 0 ... 120 °C | 100 mm | Stainless steel | IP50 |
| TBH080-212.151.11T | 80 mm | 0 ... 60 °C | 48 mm | Brass | IP50 |
| TBH080-212.151.12T | 80 mm | 0 ... 100 °C | 48 mm | Brass | IP50 |
| TBH080-212.151.20T | 80 mm | 0 ... 120 °C | 48 mm | Brass | IP50 |
| TBH080-212.151.52T | 80 mm | -20 ... 40 °C | 48 mm | Brass | IP50 |
| TBH080-212.152.11T | 80 mm | 0 ... 60 °C | 68 mm | Brass | IP50 |
| TBH080-212.152.12T | 80 mm | 0 ... 100 °C | 68 mm | Brass | IP50 |
| TBH080-212.152.20T | 80 mm | 0 ... 120 °C | 68 mm | Brass | IP50 |
| TBH080-212.152.52T | 80 mm | -20 ... 40 °C | 68 mm | Brass | IP50 |
| TBH080-212.153.11T | 80 mm | 0 ... 60 °C | 88 mm | Brass | IP50 |
| TBH080-212.153.12T | 80 mm | 0 ... 100 °C | 88 mm | Brass | IP50 |
| TBH080-212.153.20T | 80 mm | 0 ... 120 °C | 88 mm | Brass | IP50 |
| TBH080-212.153.52T | 80 mm | -20 ... 40 °C | 88 mm | Brass | IP50 |
| TBH100-212.151.11T | 100 mm | 0 ... 60 °C | 48 mm | Brass | IP50 |
| TBH100-212.151.12T | 100 mm | 0 ... 100 °C | 48 mm | Brass | IP50 |
| TBH100-212.151.20T | 100 mm | 0 ... 120 °C | 48 mm | Brass | IP50 |
| TBH100-212.151.52T | 100 mm | -20 ... 40 °C | 48 mm | Brass | IP50 |
| TBH100-212.152.11T | 100 mm | 0 ... 60 °C | 68 mm | Brass | IP50 |
| TBH100-212.152.12T | 100 mm | 0 ... 100 °C | 68 mm | Brass | IP50 |
| TBH100-212.152.20T | 100 mm | 0 ... 120 °C | 68 mm | Brass | IP50 |
| TBH100-212.152.52T | 100 mm | -20 ... 40 °C | 68 mm | Brass | IP50 |
| TBH100-212.153.11T | 100 mm | 0 ... 60 °C | 88 mm | Brass | IP50 |
| TBH100-212.153.12T | 100 mm | 0 ... 100 °C | 88 mm | Brass | IP50 |
| TBH100-212.153.20T | 100 mm | 0 ... 120 °C | 88 mm | Brass | IP50 |
| TBH100-212.153.52T | 100 mm | -20 ... 40 °C | 88 mm | Brass | IP50 |
| TBHA080-212.161.11T | 80 mm | 0 ... 60 °C | 55 mm | Stainless steel | IP50 |
| TBHA080-212.161.12T | 80 mm | 0 ... 100 °C | 55 mm | Stainless steel | IP50 |
| TBHA080-212.161.20T | 80 mm | 0 ... 120 °C | 55 mm | Stainless steel | IP50 |
| TBHA080-212.162.11T | 80 mm | 0 ... 60 °C | 75 mm | Stainless steel | IP50 |
| TBHA080-212.162.12T | 80 mm | 0 ... 100 °C | 75 mm | Stainless steel | IP50 |
| TBHA100-212.161.11T | 100 mm | 0 ... 60 °C | 55 mm | Stainless steel | IP50 |
| TBHA100-212.161.12T | 100 mm | 0 ... 100 °C | 55 mm | Stainless steel | IP50 |
| TBHA100-212.161.20T | 100 mm | 0 ... 120 °C | 55 mm | Stainless steel | IP50 |
| TBHA100-212.162.11T | 100 mm | 0 ... 60 °C | 75 mm | Stainless steel | IP50 |
| TBHA100-212.162.12T | 100 mm | 0 ... 100 °C | 75 mm | Stainless steel | IP50 |
| TBHA100-212.162.20T | 100 mm | 0 ... 120 °C | 75 mm | Stainless steel | IP50 |
| TBHA100-212.162.27T | 100 mm | 0 ... 80 °C | 75 mm | Stainless steel | IP50 |
| TBI100-212.162.52T | 100 mm | -20 ... 40 °C | 100 mm | Stainless steel | IP67 |
| TBI100-212.164.13T | 100 mm | 0 ... 160 °C | 160 mm | Stainless steel | IP67 |
| TBHA080-212.162.20T | 80 mm | 0 ... 120 °C | 75 mm | Stainless steel | IP50 |
| TBHA080-212.162.27T | 80 mm | 0 ... 80 °C | 75 mm | Stainless steel | IP50 |
| TBHA080-212.161.27T | 80 mm | 0 ... 80 °C | 55 mm | Stainless steel | IP50 |
| TBHA100-212.161.27T | 100 mm | 0 ... 80 °C | 55 mm | Stainless steel | IP50 |
| TBL100-232.151.70T | 100 mm | -30 ... 50 °C | 165 mm | Brass | IP50 |
| TBL100-232.151.54T | 100 mm | -20 ... 60 °C | 165 mm | Brass | IP50 |
| TBL100-232.151.27T | 100 mm | 0 ... 80 °C | 165 mm | Brass | IP50 |
| TBL100-232.151.12T | 100 mm | 0 ... 100 °C | 165 mm | Brass | IP50 |
| TB080-212.152.10T | 80 mm | 0 ... 40 °C | 100 mm | Brass | IP50 |
| TB080-212.152.14T | 80 mm | 0 ... 250 °C | 100 mm | Brass | IP50 |
| TB080-212.154.53T | 80 mm | -10 ... 30 °C | 160 mm | Brass | IP50 |
| TB080-212.154.54T | 80 mm | -20 ... 60 °C | 160 mm | Brass | IP50 |
| TB080-212.156.11T | 80 mm | 0 ... 60 °C | 250 mm | Brass | IP50 |
| TB080-212.156.12T | 80 mm | 0 ... 100 °C | 250 mm | Brass | IP50 |
| TB080-212.156.13T | 80 mm | 0 ... 160 °C | 250 mm | Brass | IP50 |
| TB080-212.156.14T | 80 mm | 0 ... 250 °C | 250 mm | Brass | IP50 |
| TB080-212.156.20T | 80 mm | 0 ... 120 °C | 250 mm | Brass | IP50 |
| TB080-212.156.22T | 80 mm | 0 ... 200 °C | 250 mm | Brass | IP50 |
| TB080-212.156.27T | 80 mm | 0 ... 80 °C | 250 mm | Brass | IP50 |
| TB080-212.156.54T | 80 mm | -20 ... 60 °C | 250 mm | Brass | IP50 |
| TB080-212.157.11T | 80 mm | 0 ... 60 °C | 400 mm | Brass | IP50 |
| TB080-212.157.12T | 80 mm | 0 ... 100 °C | 400 mm | Brass | IP50 |
| TB080-212.157.13T | 80 mm | 0 ... 160 °C | 400 mm | Brass | IP50 |
| TB080-212.157.14T | 80 mm | 0 ... 250 °C | 400 mm | Brass | IP50 |
| TB080-212.157.22T | 80 mm | 0 ... 200 °C | 400 mm | Brass | IP50 |
| TB080-212.157.27T | 80 mm | 0 ... 80 °C | 400 mm | Brass | IP50 |
| TB080-212.157.52T | 80 mm | -20 ... 40 °C | 400 mm | Brass | IP50 |
| TB080-212.157.54T | 80 mm | -20 ... 60 °C | 400 mm | Brass | IP50 |
| TB080-212.162.10T | 80 mm | 0 ... 40 °C | 100 mm | Stainless steel | IP50 |
| TB080-212.162.11T | 80 mm | 0 ... 60 °C | 100 mm | Stainless steel | IP50 |
| TB080-212.162.12T | 80 mm | 0 ... 100 °C | 100 mm | Stainless steel | IP50 |
| TB080-212.162.13T | 80 mm | 0 ... 160 °C | 100 mm | Stainless steel | IP50 |
| TB080-212.162.27T | 80 mm | 0 ... 80 °C | 100 mm | Stainless steel | IP50 |
| TB080-212.152.22T | 80 mm | 0 ... 200 °C | 100 mm | Brass | IP50 |
| TB080-212.152.27T | 80 mm | 0 ... 80 °C | 100 mm | Brass | IP50 |
| TB080-212.152.53T | 80 mm | -10 ... 30 °C | 100 mm | Brass | IP50 |
| TB080-212.152.54T | 80 mm | -20 ... 60 °C | 100 mm | Brass | IP50 |
| TB080-212.154.10T | 80 mm | 0 ... 40 °C | 160 mm | Brass | IP50 |
| TB080-212.154.13T | 80 mm | 0 ... 160 °C | 160 mm | Brass | IP50 |
| TB080-212.154.14T | 80 mm | 0 ... 250 °C | 160 mm | Brass | IP50 |
| TB080-212.154.22T | 80 mm | 0 ... 200 °C | 160 mm | Brass | IP50 |
| TB080-212.154.27T | 80 mm | 0 ... 80 °C | 160 mm | Brass | IP50 |
| TB080-212.162.14T | 80 mm | 0 ... 250 °C | 100 mm | Stainless steel | IP50 |
| TB080-212.162.15T | 80 mm | 0 ... 400 °C | 100 mm | Stainless steel | IP50 |
| TB080-212.162.20T | 80 mm | 0 ... 120 °C | 100 mm | Stainless steel | IP50 |
| TB080-212.162.22T | 80 mm | 0 ... 200 °C | 100 mm | Stainless steel | IP50 |
| TB080-212.162.30T | 80 mm | 100 ... 500 °C | 100 mm | Stainless steel | IP50 |
| TB080-212.162.51T | 80 mm | -30 ... 70 °C | 100 mm | Stainless steel | IP50 |
| TB080-212.162.52T | 80 mm | -20 ... 40 °C | 100 mm | Stainless steel | IP50 |
| TB080-212.162.53T | 80 mm | -10 ... 30 °C | 100 mm | Stainless steel | IP50 |
| TB080-212.162.54T | 80 mm | -20 ... 60 °C | 100 mm | Stainless steel | IP50 |
| TB080-212.162.61T | 80 mm | -30 ... 30 °C | 100 mm | Stainless steel | IP50 |
| TB080-212.164.10T | 80 mm | 0 ... 40 °C | 160 mm | Stainless steel | IP50 |
| TB080-212.164.11T | 80 mm | 0 ... 60 °C | 160 mm | Stainless steel | IP50 |
| TB080-212.164.12T | 80 mm | 0 ... 100 °C | 160 mm | Stainless steel | IP50 |
| TB080-212.164.13T | 80 mm | 0 ... 160 °C | 160 mm | Stainless steel | IP50 |
| TB080-212.164.14T | 80 mm | 0 ... 250 °C | 160 mm | Stainless steel | IP50 |
| TB080-212.164.15T | 80 mm | 0 ... 400 °C | 160 mm | Stainless steel | IP50 |
| TB080-212.164.20T | 80 mm | 0 ... 120 °C | 160 mm | Stainless steel | IP50 |
| TB080-212.164.22T | 80 mm | 0 ... 200 °C | 160 mm | Stainless steel | IP50 |
| TB080-212.164.27T | 80 mm | 0 ... 80 °C | 160 mm | Stainless steel | IP50 |
| TB080-212.164.30T | 80 mm | 100 ... 500 °C | 160 mm | Stainless steel | IP50 |
| TB080-212.164.51T | 80 mm | -30 ... 70 °C | 160 mm | Stainless steel | IP50 |
| TB080-212.164.52T | 80 mm | -20 ... 40 °C | 160 mm | Stainless steel | IP50 |
| TB080-212.164.53T | 80 mm | -10 ... 30 °C | 160 mm | Stainless steel | IP50 |
| TB080-212.164.54T | 80 mm | -20 ... 60 °C | 160 mm | Stainless steel | IP50 |
| TB080-212.164.61T | 80 mm | -30 ... 30 °C | 160 mm | Stainless steel | IP50 |
| TB080-212.166.11T | 80 mm | 0 ... 60 °C | 250 mm | Stainless steel | IP50 |
| TB080-212.166.12T | 80 mm | 0 ... 100 °C | 250 mm | Stainless steel | IP50 |
| TB080-212.166.13T | 80 mm | 0 ... 160 °C | 250 mm | Stainless steel | IP50 |
| TB080-212.166.14T | 80 mm | 0 ... 250 °C | 250 mm | Stainless steel | IP50 |
| TB080-212.166.15T | 80 mm | 0 ... 400 °C | 250 mm | Stainless steel | IP50 |
| TB080-212.166.20T | 80 mm | 0 ... 120 °C | 250 mm | Stainless steel | IP50 |
| TB080-212.166.22T | 80 mm | 0 ... 200 °C | 250 mm | Stainless steel | IP50 |
| TB080-212.166.27T | 80 mm | 0 ... 80 °C | 250 mm | Stainless steel | IP50 |
| TB080-212.166.30T | 80 mm | 100 ... 500 °C | 250 mm | Stainless steel | IP50 |
| TB080-212.166.51T | 80 mm | -30 ... 70 °C | 250 mm | Stainless steel | IP50 |
| TB080-212.166.52T | 80 mm | -20 ... 40 °C | 250 mm | Stainless steel | IP50 |
| TB080-212.166.54T | 80 mm | -20 ... 60 °C | 250 mm | Stainless steel | IP50 |
| TB080-212.166.61T | 80 mm | -30 ... 30 °C | 250 mm | Stainless steel | IP50 |
| TB080-212.167.11T | 80 mm | 0 ... 60 °C | 400 mm | Stainless steel | IP50 |
| TB080-212.167.12T | 80 mm | 0 ... 100 °C | 400 mm | Stainless steel | IP50 |
| TB080-212.167.13T | 80 mm | 0 ... 160 °C | 400 mm | Stainless steel | IP50 |
| TB080-212.167.14T | 80 mm | 0 ... 250 °C | 400 mm | Stainless steel | IP50 |
| TB080-212.167.15T | 80 mm | 0 ... 400 °C | 400 mm | Stainless steel | IP50 |
| TB080-212.167.20T | 80 mm | 0 ... 120 °C | 400 mm | Stainless steel | IP50 |
| TB080-212.167.22T | 80 mm | 0 ... 200 °C | 400 mm | Stainless steel | IP50 |
| TB080-212.167.27T | 80 mm | 0 ... 80 °C | 400 mm | Stainless steel | IP50 |
| TB080-212.167.30T | 80 mm | 100 ... 500 °C | 400 mm | Stainless steel | IP50 |
| TB080-212.167.51T | 80 mm | -30 ... 70 °C | 400 mm | Stainless steel | IP50 |
| TB080-212.167.52T | 80 mm | -20 ... 40 °C | 400 mm | Stainless steel | IP50 |
| TB080-212.167.54T | 80 mm | -20 ... 60 °C | 400 mm | Stainless steel | IP50 |
| TB080-212.167.61T | 80 mm | -30 ... 30 °C | 400 mm | Stainless steel | IP50 |
| TB100-212.152.22T | 100 mm | 0 ... 200 °C | 100 mm | Brass | IP50 |
| TB100-212.152.61T | 100 mm | -30 ... 30 °C | 100 mm | Brass | IP50 |
| TB100-212.154.22T | 100 mm | 0 ... 200 °C | 160 mm | Brass | IP50 |
| TB100-212.154.27T | 100 mm | 0 ... 80 °C | 160 mm | Brass | IP50 |
| TB100-212.154.61T | 100 mm | -30 ... 30 °C | 160 mm | Brass | IP50 |
| TB100-212.156.22T | 100 mm | 0 ... 200 °C | 250 mm | Brass | IP50 |
| TB100-212.156.27T | 100 mm | 0 ... 80 °C | 250 mm | Brass | IP50 |
| TB100-212.156.54T | 100 mm | -20 ... 60 °C | 250 mm | Brass | IP50 |
| TB100-212.156.61T | 100 mm | -30 ... 30 °C | 250 mm | Brass | IP50 |
| TB100-212.157.13T | 100 mm | 0 ... 160 °C | 400 mm | Brass | IP50 |
| TB100-212.157.22T | 100 mm | 0 ... 200 °C | 400 mm | Brass | IP50 |
| TB100-212.157.27T | 100 mm | 0 ... 80 °C | 400 mm | Brass | IP50 |
| TB100-212.157.51T | 100 mm | -30 ... 70 °C | 400 mm | Brass | IP50 |
| TB100-212.157.54T | 100 mm | -20 ... 60 °C | 400 mm | Brass | IP50 |
| TB100-212.157.61T | 100 mm | -30 ... 30 °C | 400 mm | Brass | IP50 |
| TB100-212.162.10T | 100 mm | 0 ... 40 °C | 100 mm | Stainless steel | IP50 |
| TB100-212.162.11T | 100 mm | 0 ... 60 °C | 100 mm | Stainless steel | IP50 |
| TB100-212.162.12T | 100 mm | 0 ... 100 °C | 100 mm | Stainless steel | IP50 |
| TB100-212.162.13T | 100 mm | 0 ... 160 °C | 100 mm | Stainless steel | IP50 |
| TB100-212.162.14T | 100 mm | 0 ... 250 °C | 100 mm | Stainless steel | IP50 |
| TB100-212.162.15T | 100 mm | 0 ... 400 °C | 100 mm | Stainless steel | IP50 |
| TB100-212.162.22T | 100 mm | 0 ... 200 °C | 100 mm | Stainless steel | IP50 |
| TB100-212.162.27T | 100 mm | 0 ... 80 °C | 100 mm | Stainless steel | IP50 |
| TB100-212.162.30T | 100 mm | 100 ... 500 °C | 100 mm | Stainless steel | IP50 |
| TB100-212.162.51T | 100 mm | -30 ... 70 °C | 100 mm | Stainless steel | IP50 |
| TB100-212.162.52T | 100 mm | -20 ... 40 °C | 100 mm | Stainless steel | IP50 |
| TB100-212.162.53T | 100 mm | -10 ... 30 °C | 100 mm | Stainless steel | IP50 |
| TB100-212.162.54T | 100 mm | -20 ... 60 °C | 100 mm | Stainless steel | IP50 |
| TB100-212.162.61T | 100 mm | -30 ... 30 °C | 100 mm | Stainless steel | IP50 |
| TB100-212.164.10T | 100 mm | 0 ... 40 °C | 160 mm | Stainless steel | IP50 |
| TB100-212.164.11T | 100 mm | 0 ... 60 °C | 160 mm | Stainless steel | IP50 |
| TB100-212.164.12T | 100 mm | 0 ... 100 °C | 160 mm | Stainless steel | IP50 |
| TB100-212.164.13T | 100 mm | 0 ... 160 °C | 160 mm | Stainless steel | IP50 |
| TB100-212.164.14T | 100 mm | 0 ... 250 °C | 160 mm | Stainless steel | IP50 |
| TB100-212.164.15T | 100 mm | 0 ... 400 °C | 160 mm | Stainless steel | IP50 |
| TB100-212.164.20T | 100 mm | 0 ... 120 °C | 160 mm | Stainless steel | IP50 |
| TB100-212.164.22T | 100 mm | 0 ... 200 °C | 160 mm | Stainless steel | IP50 |
| TB100-212.164.27T | 100 mm | 0 ... 80 °C | 160 mm | Stainless steel | IP50 |
| TB100-212.164.30T | 100 mm | 100 ... 500 °C | 160 mm | Stainless steel | IP50 |
| TB100-212.164.51T | 100 mm | -30 ... 70 °C | 160 mm | Stainless steel | IP50 |
| TB100-212.164.52T | 100 mm | -20 ... 40 °C | 160 mm | Stainless steel | IP50 |
| TB100-212.164.53T | 100 mm | -10 ... 30 °C | 160 mm | Stainless steel | IP50 |
| TB100-212.164.54T | 100 mm | -20 ... 60 °C | 160 mm | Stainless steel | IP50 |
| TB100-212.164.61T | 100 mm | -30 ... 30 °C | 160 mm | Stainless steel | IP50 |
| TB100-212.166.11T | 100 mm | 0 ... 60 °C | 250 mm | Stainless steel | IP50 |
| TB100-212.166.12T | 100 mm | 0 ... 100 °C | 250 mm | Stainless steel | IP50 |
| TB100-212.166.13T | 100 mm | 0 ... 160 °C | 250 mm | Stainless steel | IP50 |
| TB100-212.166.14T | 100 mm | 0 ... 250 °C | 250 mm | Stainless steel | IP50 |
| TB100-212.166.15T | 100 mm | 0 ... 400 °C | 250 mm | Stainless steel | IP50 |
| TB100-212.166.20T | 100 mm | 0 ... 120 °C | 250 mm | Stainless steel | IP50 |
| TB100-212.166.22T | 100 mm | 0 ... 200 °C | 250 mm | Stainless steel | IP50 |
| TB100-212.166.27T | 100 mm | 0 ... 80 °C | 250 mm | Stainless steel | IP50 |
| TB100-212.166.30T | 100 mm | 100 ... 500 °C | 250 mm | Stainless steel | IP50 |
| TB100-212.166.51T | 100 mm | -30 ... 70 °C | 250 mm | Stainless steel | IP50 |
| TB100-212.166.52T | 100 mm | -20 ... 40 °C | 250 mm | Stainless steel | IP50 |
| TB100-212.166.54T | 100 mm | -20 ... 60 °C | 250 mm | Stainless steel | IP50 |
| TB100-212.166.61T | 100 mm | -30 ... 30 °C | 250 mm | Stainless steel | IP50 |
| TB100-212.167.11T | 100 mm | 0 ... 60 °C | 400 mm | Stainless steel | IP50 |
| TB100-212.167.12T | 100 mm | 0 ... 100 °C | 400 mm | Stainless steel | IP50 |
| TB100-212.167.13T | 100 mm | 0 ... 160 °C | 400 mm | Stainless steel | IP50 |
| TB100-212.167.14T | 100 mm | 0 ... 250 °C | 400 mm | Stainless steel | IP50 |
| TB100-212.167.15T | 100 mm | 0 ... 400 °C | 400 mm | Stainless steel | IP50 |
| TB100-212.167.20T | 100 mm | 0 ... 120 °C | 400 mm | Stainless steel | IP50 |
| TB100-212.167.22T | 100 mm | 0 ... 200 °C | 400 mm | Stainless steel | IP50 |
| TB100-212.167.27T | 100 mm | 0 ... 80 °C | 400 mm | Stainless steel | IP50 |
| TB100-212.167.30T | 100 mm | 100 ... 500 °C | 400 mm | Stainless steel | IP50 |
| TB100-212.167.51T | 100 mm | -30 ... 70 °C | 400 mm | Stainless steel | IP50 |
| TB100-212.167.52T | 100 mm | -20 ... 40 °C | 400 mm | Stainless steel | IP50 |
| TB100-212.167.54T | 100 mm | -20 ... 60 °C | 400 mm | Stainless steel | IP50 |
| TB100-212.167.61T | 100 mm | -30 ... 30 °C | 400 mm | Stainless steel | IP50 |
| TBH080-212.151.14T | 80 mm | 0 ... 250 °C | 48 mm | Brass | IP50 |
| TBH080-212.151.27T | 80 mm | 0 ... 80 °C | 48 mm | Brass | IP50 |
| TBH080-212.151.54T | 80 mm | -20 ... 60 °C | 48 mm | Brass | IP50 |
| TBH080-212.152.10T | 80 mm | 0 ... 40 °C | 68 mm | Brass | IP50 |
| TBH080-212.152.14T | 80 mm | 0 ... 250 °C | 68 mm | Brass | IP50 |
| TBH080-212.152.27T | 80 mm | 0 ... 80 °C | 68 mm | Brass | IP50 |
| TBH080-212.152.53T | 80 mm | -10 ... 30 °C | 68 mm | Brass | IP50 |
| TBH080-212.152.54T | 80 mm | -20 ... 60 °C | 68 mm | Brass | IP50 |
| TBH080-212.153.10T | 80 mm | 0 ... 40 °C | 88 mm | Brass | IP50 |
| TBH080-212.153.14T | 80 mm | 0 ... 250 °C | 88 mm | Brass | IP50 |
| TBH080-212.153.27T | 80 mm | 0 ... 80 °C | 88 mm | Brass | IP50 |
| TBH080-212.153.53T | 80 mm | -10 ... 30 °C | 88 mm | Brass | IP50 |
| TBH080-212.153.54T | 80 mm | -20 ... 60 °C | 88 mm | Brass | IP50 |
| TBH100-212.151.14T | 100 mm | 0 ... 250 °C | 48 mm | Brass | IP50 |
| TBH100-212.151.27T | 100 mm | 0 ... 80 °C | 48 mm | Brass | IP50 |
| TBH100-212.151.54T | 100 mm | -20 ... 60 °C | 48 mm | Brass | IP50 |
| TBH100-212.152.10T | 100 mm | 0 ... 40 °C | 68 mm | Brass | IP50 |
| TBH100-212.152.14T | 100 mm | 0 ... 250 °C | 68 mm | Brass | IP50 |
| TBH100-212.152.27T | 100 mm | 0 ... 80 °C | 68 mm | Brass | IP50 |
| TBH100-212.152.53T | 100 mm | -10 ... 30 °C | 68 mm | Brass | IP50 |
| TBH100-212.152.54T | 100 mm | -20 ... 60 °C | 68 mm | Brass | IP50 |
| TBH100-212.153.10T | 100 mm | 0 ... 40 °C | 88 mm | Brass | IP50 |
| TBH100-212.153.14T | 100 mm | 0 ... 250 °C | 88 mm | Brass | IP50 |
| TBH100-212.153.27T | 100 mm | 0 ... 80 °C | 88 mm | Brass | IP50 |
| TBH100-212.153.53T | 100 mm | -10 ... 30 °C | 88 mm | Brass | IP50 |
| TBH100-212.153.54T | 100 mm | -20 ... 60 °C | 88 mm | Brass | IP50 |
| TBHA080-212.161.13T | 80 mm | 0 ... 160 °C | 55 mm | Stainless steel | IP50 |
| TBHA080-212.161.52T | 80 mm | -20 ... 40 °C | 55 mm | Stainless steel | IP50 |
| TBHA080-212.163.11T | 80 mm | 0 ... 60 °C | 95 mm | Stainless steel | IP50 |
| TBHA080-212.163.12T | 80 mm | 0 ... 100 °C | 95 mm | Stainless steel | IP50 |
| TBHA080-212.163.13T | 80 mm | 0 ... 160 °C | 95 mm | Stainless steel | IP50 |
| TBHA080-212.163.20T | 80 mm | 0 ... 120 °C | 95 mm | Stainless steel | IP50 |
| TBHA080-212.163.27T | 80 mm | 0 ... 80 °C | 95 mm | Stainless steel | IP50 |
| TBHA080-212.163.52T | 80 mm | -20 ... 40 °C | 95 mm | Stainless steel | IP50 |
| TBHA080-212.164.11T | 80 mm | 0 ... 60 °C | 115 mm | Stainless steel | IP50 |
| TBHA080-212.164.12T | 80 mm | 0 ... 100 °C | 115 mm | Stainless steel | IP50 |
| TBHA080-212.164.13T | 80 mm | 0 ... 160 °C | 115 mm | Stainless steel | IP50 |
| TBHA080-212.164.20T | 80 mm | 0 ... 120 °C | 115 mm | Stainless steel | IP50 |
| TBHA080-212.164.52T | 80 mm | -20 ... 40 °C | 115 mm | Stainless steel | IP50 |
| TBHA100-212.163.11T | 100 mm | 0 ... 60 °C | 95 mm | Stainless steel | IP50 |
| TBHA100-212.163.12T | 100 mm | 0 ... 100 °C | 95 mm | Stainless steel | IP50 |
| TBHA100-212.163.20T | 100 mm | 0 ... 120 °C | 95 mm | Stainless steel | IP50 |
| TBHA100-212.163.27T | 100 mm | 0 ... 80 °C | 95 mm | Stainless steel | IP50 |
| TBHA100-212.164.11T | 100 mm | 0 ... 60 °C | 115 mm | Stainless steel | IP50 |
| TBHA100-212.164.12T | 100 mm | 0 ... 100 °C | 115 mm | Stainless steel | IP50 |
| TBHA100-212.164.20T | 100 mm | 0 ... 120 °C | 115 mm | Stainless steel | IP50 |
| TBI100-211.162.11T | 100 mm | 0 ... 60 °C | 100 mm | Stainless steel | IP67 |
| TBI100-211.162.12T | 100 mm | 0 ... 100 °C | 100 mm | Stainless steel | IP67 |
| TBI100-211.162.13T | 100 mm | 0 ... 160 °C | 100 mm | Stainless steel | IP67 |
| TBI100-211.162.14T | 100 mm | 0 ... 250 °C | 100 mm | Stainless steel | IP67 |
| TBI100-211.162.15T | 100 mm | 0 ... 400 °C | 100 mm | Stainless steel | IP67 |
| TBI100-211.162.16T | 100 mm | 0 ... 600 °C | 100 mm | Stainless steel | IP67 |
| TBI100-211.162.20T | 100 mm | 0 ... 120 °C | 100 mm | Stainless steel | IP67 |
| TBI100-211.162.22T | 100 mm | 0 ... 200 °C | 100 mm | Stainless steel | IP67 |
| TBI100-211.162.25T | 100 mm | 0 ... 500 °C | 100 mm | Stainless steel | IP67 |
| TBI100-211.162.27T | 100 mm | 0 ... 80 °C | 100 mm | Stainless steel | IP67 |
| TBI100-211.162.84T | 100 mm | -20 ... 100 °C | 100 mm | Stainless steel | IP67 |
| TBI100-211.164.11T | 100 mm | 0 ... 60 °C | 160 mm | Stainless steel | IP67 |
| TBI100-211.164.12T | 100 mm | 0 ... 100 °C | 160 mm | Stainless steel | IP67 |
| TBI100-211.164.13T | 100 mm | 0 ... 160 °C | 160 mm | Stainless steel | IP67 |
| TBI100-211.164.14T | 100 mm | 0 ... 250 °C | 160 mm | Stainless steel | IP67 |
| TBI100-211.164.15T | 100 mm | 0 ... 400 °C | 160 mm | Stainless steel | IP67 |
| TBI100-211.164.16T | 100 mm | 0 ... 600 °C | 160 mm | Stainless steel | IP67 |
| TBI100-211.164.20T | 100 mm | 0 ... 120 °C | 160 mm | Stainless steel | IP67 |
| TBI100-211.164.22T | 100 mm | 0 ... 200 °C | 160 mm | Stainless steel | IP67 |
| TBI100-211.164.25T | 100 mm | 0 ... 500 °C | 160 mm | Stainless steel | IP67 |
| TBI100-211.164.27T | 100 mm | 0 ... 80 °C | 160 mm | Stainless steel | IP67 |
| TBI100-211.164.51T | 100 mm | -30 ... 70 °C | 160 mm | Stainless steel | IP67 |
| TBI100-211.164.52T | 100 mm | -20 ... 40 °C | 160 mm | Stainless steel | IP67 |
| TBI100-211.164.54T | 100 mm | -20 ... 60 °C | 160 mm | Stainless steel | IP67 |
| TBI100-211.164.55T | 100 mm | -30 ... 170 °C | 160 mm | Stainless steel | IP67 |
| TBI100-211.164.68T | 100 mm | -70 ... 50 °C | 160 mm | Stainless steel | IP67 |
| TBI100-211.164.84T | 100 mm | -20 ... 100 °C | 160 mm | Stainless steel | IP67 |
| TBI100-211.166.11T | 100 mm | 0 ... 60 °C | 250 mm | Stainless steel | IP67 |
| TBI100-211.166.12T | 100 mm | 0 ... 100 °C | 250 mm | Stainless steel | IP67 |
| TBI100-211.166.13T | 100 mm | 0 ... 160 °C | 250 mm | Stainless steel | IP67 |
| TBI100-211.166.14T | 100 mm | 0 ... 250 °C | 250 mm | Stainless steel | IP67 |
| TBI100-211.166.15T | 100 mm | 0 ... 400 °C | 250 mm | Stainless steel | IP67 |
| TBI100-211.166.16T | 100 mm | 0 ... 600 °C | 250 mm | Stainless steel | IP67 |
| TBI100-211.166.20T | 100 mm | 0 ... 120 °C | 250 mm | Stainless steel | IP67 |
| TBI100-211.166.22T | 100 mm | 0 ... 200 °C | 250 mm | Stainless steel | IP67 |
| TBI100-211.166.25T | 100 mm | 0 ... 500 °C | 250 mm | Stainless steel | IP67 |
| TBI100-211.166.27T | 100 mm | 0 ... 80 °C | 250 mm | Stainless steel | IP67 |
| TBI100-211.166.51T | 100 mm | -30 ... 70 °C | 250 mm | Stainless steel | IP67 |
| TBI100-211.166.52T | 100 mm | -20 ... 40 °C | 250 mm | Stainless steel | IP67 |
| TBI100-211.166.54T | 100 mm | -20 ... 60 °C | 250 mm | Stainless steel | IP67 |
| TBI100-211.166.55T | 100 mm | -30 ... 170 °C | 250 mm | Stainless steel | IP67 |
| TBI100-211.167.22T | 100 mm | 0 ... 200 °C | 400 mm | Stainless steel | IP67 |
| TBI100-211.167.25T | 100 mm | 0 ... 500 °C | 400 mm | Stainless steel | IP67 |
| TBI100-211.167.27T | 100 mm | 0 ... 80 °C | 400 mm | Stainless steel | IP67 |
| TBI100-211.167.51T | 100 mm | -30 ... 70 °C | 400 mm | Stainless steel | IP67 |
| TBI100-211.167.52T | 100 mm | -20 ... 40 °C | 400 mm | Stainless steel | IP67 |
| TBI100-211.167.54T | 100 mm | -20 ... 60 °C | 400 mm | Stainless steel | IP67 |
| TBI100-211.167.55T | 100 mm | -30 ... 170 °C | 400 mm | Stainless steel | IP67 |
| TBI100-211.167.68T | 100 mm | -70 ... 50 °C | 400 mm | Stainless steel | IP67 |
| TBI100-211.167.84T | 100 mm | -20 ... 100 °C | 400 mm | Stainless steel | IP67 |
| TBI100-212.162.10T | 100 mm | 0 ... 40 °C | 100 mm | Stainless steel | IP67 |
| TBI100-212.162.11T | 100 mm | 0 ... 60 °C | 100 mm | Stainless steel | IP67 |
| TBI100-212.162.12T | 100 mm | 0 ... 100 °C | 100 mm | Stainless steel | IP67 |
| TBI100-212.162.13T | 100 mm | 0 ... 160 °C | 100 mm | Stainless steel | IP67 |
| TBI100-212.162.14T | 100 mm | 0 ... 250 °C | 100 mm | Stainless steel | IP67 |
| TBI100-212.162.15T | 100 mm | 0 ... 400 °C | 100 mm | Stainless steel | IP67 |
| TBI100-212.162.16T | 100 mm | 0 ... 600 °C | 100 mm | Stainless steel | IP67 |
| TBI100-212.162.20T | 100 mm | 0 ... 120 °C | 100 mm | Stainless steel | IP67 |
| TBI100-212.162.22T | 100 mm | 0 ... 200 °C | 100 mm | Stainless steel | IP67 |
| TBI100-212.162.25T | 100 mm | 0 ... 500 °C | 100 mm | Stainless steel | IP67 |
| TBI100-212.162.27T | 100 mm | 0 ... 80 °C | 100 mm | Stainless steel | IP67 |
| TBI100-212.162.51T | 100 mm | -30 ... 70 °C | 100 mm | Stainless steel | IP67 |
| TBI100-212.162.53T | 100 mm | -10 ... 30 °C | 100 mm | Stainless steel | IP67 |
| TBI100-212.162.54T | 100 mm | -20 ... 60 °C | 100 mm | Stainless steel | IP67 |
| TBI100-212.162.55T | 100 mm | -30 ... 170 °C | 100 mm | Stainless steel | IP67 |
| TBI100-212.162.68T | 100 mm | -70 ... 50 °C | 100 mm | Stainless steel | IP67 |
| TBI100-212.162.84T | 100 mm | -20 ... 100 °C | 100 mm | Stainless steel | IP67 |
| TBI100-212.164.10T | 100 mm | 0 ... 40 °C | 160 mm | Stainless steel | IP67 |
| TBI100-212.164.11T | 100 mm | 0 ... 60 °C | 160 mm | Stainless steel | IP67 |
| TBI100-212.164.12T | 100 mm | 0 ... 100 °C | 160 mm | Stainless steel | IP67 |
| TBHA080-212.162.13T | 80 mm | 0 ... 160 °C | 75 mm | Stainless steel | IP50 |
| TBHA080-212.162.52T | 80 mm | -20 ... 40 °C | 75 mm | Stainless steel | IP50 |
| TBI100-211.162.51T | 100 mm | -30 ... 70 °C | 100 mm | Stainless steel | IP67 |
| TBI100-211.162.52T | 100 mm | -20 ... 40 °C | 100 mm | Stainless steel | IP67 |
| TBI100-211.162.54T | 100 mm | -20 ... 60 °C | 100 mm | Stainless steel | IP67 |
| TBI100-211.162.55T | 100 mm | -30 ... 170 °C | 100 mm | Stainless steel | IP67 |
| TBI100-211.162.68T | 100 mm | -70 ... 50 °C | 100 mm | Stainless steel | IP67 |
| TBI100-211.166.68T | 100 mm | -70 ... 50 °C | 250 mm | Stainless steel | IP67 |
| TBI100-211.166.84T | 100 mm | -20 ... 100 °C | 250 mm | Stainless steel | IP67 |
| TBI100-211.167.11T | 100 mm | 0 ... 60 °C | 400 mm | Stainless steel | IP67 |
| TBI100-211.167.12T | 100 mm | 0 ... 100 °C | 400 mm | Stainless steel | IP67 |
| TBI100-211.167.13T | 100 mm | 0 ... 160 °C | 400 mm | Stainless steel | IP67 |
| TBI100-211.167.14T | 100 mm | 0 ... 250 °C | 400 mm | Stainless steel | IP67 |
| TBI100-211.167.15T | 100 mm | 0 ... 400 °C | 400 mm | Stainless steel | IP67 |
| TBI100-211.167.16T | 100 mm | 0 ... 600 °C | 400 mm | Stainless steel | IP67 |
| TBI100-211.167.20T | 100 mm | 0 ... 120 °C | 400 mm | Stainless steel | IP67 |
| TBI100-212.164.14T | 100 mm | 0 ... 250 °C | 160 mm | Stainless steel | IP67 |
| TBI100-212.164.15T | 100 mm | 0 ... 400 °C | 160 mm | Stainless steel | IP67 |
| TBI100-212.164.16T | 100 mm | 0 ... 600 °C | 160 mm | Stainless steel | IP67 |
| TBI100-212.164.20T | 100 mm | 0 ... 120 °C | 160 mm | Stainless steel | IP67 |
| TBI100-212.164.22T | 100 mm | 0 ... 200 °C | 160 mm | Stainless steel | IP67 |
| TBI100-212.164.25T | 100 mm | 0 ... 500 °C | 160 mm | Stainless steel | IP67 |
| TBI100-212.164.27T | 100 mm | 0 ... 80 °C | 160 mm | Stainless steel | IP67 |
| TBI100-212.164.51T | 100 mm | -30 ... 70 °C | 160 mm | Stainless steel | IP67 |
| TBI100-212.164.52T | 100 mm | -20 ... 40 °C | 160 mm | Stainless steel | IP67 |
| TBI100-212.167.25T | 100 mm | 0 ... 500 °C | 400 mm | Stainless steel | IP67 |
| TBI100-212.167.27T | 100 mm | 0 ... 80 °C | 400 mm | Stainless steel | IP67 |
| TBI100-212.167.51T | 100 mm | -30 ... 70 °C | 400 mm | Stainless steel | IP67 |
| TBI100-212.167.52T | 100 mm | -20 ... 40 °C | 400 mm | Stainless steel | IP67 |
| TBI100-214.164.20T | 100 mm | 0 ... 120 °C | 160 mm | Stainless steel | IP67 |
| TBI100-214.164.22T | 100 mm | 0 ... 200 °C | 160 mm | Stainless steel | IP67 |
| TBI100-214.164.25T | 100 mm | 0 ... 500 °C | 160 mm | Stainless steel | IP67 |
| TBI100-214.167.15T | 100 mm | 0 ... 400 °C | 400 mm | Stainless steel | IP67 |
| TBI100-214.167.16T | 100 mm | 0 ... 600 °C | 400 mm | Stainless steel | IP67 |
| TBI100-214.167.20T | 100 mm | 0 ... 120 °C | 400 mm | Stainless steel | IP67 |
| TBI100-212.164.53T | 100 mm | -10 ... 30 °C | 160 mm | Stainless steel | IP67 |
| TBI100-212.164.54T | 100 mm | -20 ... 60 °C | 160 mm | Stainless steel | IP67 |
| TBI100-212.167.54T | 100 mm | -20 ... 60 °C | 400 mm | Stainless steel | IP67 |
| TBI100-212.167.55T | 100 mm | -30 ... 170 °C | 400 mm | Stainless steel | IP67 |
| TBI100-214.164.27T | 100 mm | 0 ... 80 °C | 160 mm | Stainless steel | IP67 |
| TBI100-214.164.51T | 100 mm | -30 ... 70 °C | 160 mm | Stainless steel | IP67 |
| TBI100-214.167.22T | 100 mm | 0 ... 200 °C | 400 mm | Stainless steel | IP67 |
| TBI100-214.167.25T | 100 mm | 0 ... 500 °C | 400 mm | Stainless steel | IP67 |
| TBI100-214.164.52T | 100 mm | -20 ... 40 °C | 160 mm | Stainless steel | IP67 |
| TBI100-214.167.27T | 100 mm | 0 ... 80 °C | 400 mm | Stainless steel | IP67 |
| TBI100-212.167.68T | 100 mm | -70 ... 50 °C | 400 mm | Stainless steel | IP67 |
| TBI100-212.164.55T | 100 mm | -30 ... 170 °C | 160 mm | Stainless steel | IP67 |
| TBI100-212.167.84T | 100 mm | -20 ... 100 °C | 400 mm | Stainless steel | IP67 |
| TBI100-214.164.54T | 100 mm | -20 ... 60 °C | 160 mm | Stainless steel | IP67 |
| TBI100-214.167.51T | 100 mm | -30 ... 70 °C | 400 mm | Stainless steel | IP67 |
| TBI100-212.164.68T | 100 mm | -70 ... 50 °C | 160 mm | Stainless steel | IP67 |
| TBI100-214.162.11T | 100 mm | 0 ... 60 °C | 100 mm | Stainless steel | IP67 |
| TBI100-214.164.55T | 100 mm | -30 ... 170 °C | 160 mm | Stainless steel | IP67 |
| TBI100-214.167.52T | 100 mm | -20 ... 40 °C | 400 mm | Stainless steel | IP67 |
| TBI100-212.164.84T | 100 mm | -20 ... 100 °C | 160 mm | Stainless steel | IP67 |
| TBI100-214.167.54T | 100 mm | -20 ... 60 °C | 400 mm | Stainless steel | IP67 |
| TBI100-214.162.12T | 100 mm | 0 ... 100 °C | 100 mm | Stainless steel | IP67 |
| TBI100-214.164.68T | 100 mm | -70 ... 50 °C | 160 mm | Stainless steel | IP67 |
| TBI100-212.166.11T | 100 mm | 0 ... 60 °C | 250 mm | Stainless steel | IP67 |
| TBI100-214.167.55T | 100 mm | -30 ... 170 °C | 400 mm | Stainless steel | IP67 |
| TBI100-214.162.13T | 100 mm | 0 ... 160 °C | 100 mm | Stainless steel | IP67 |
| TBI100-214.164.84T | 100 mm | -20 ... 100 °C | 160 mm | Stainless steel | IP67 |
| TBI100-212.166.12T | 100 mm | 0 ... 100 °C | 250 mm | Stainless steel | IP67 |
| TBI100-214.167.68T | 100 mm | -70 ... 50 °C | 400 mm | Stainless steel | IP67 |
| TBI100-214.162.14T | 100 mm | 0 ... 250 °C | 100 mm | Stainless steel | IP67 |
| TBI100-214.166.11T | 100 mm | 0 ... 60 °C | 250 mm | Stainless steel | IP67 |
| TBI100-212.166.13T | 100 mm | 0 ... 160 °C | 250 mm | Stainless steel | IP67 |
| TBI100-214.167.84T | 100 mm | -20 ... 100 °C | 400 mm | Stainless steel | IP67 |
| TBI100-214.162.15T | 100 mm | 0 ... 400 °C | 100 mm | Stainless steel | IP67 |
| TBI100-214.166.12T | 100 mm | 0 ... 100 °C | 250 mm | Stainless steel | IP67 |
| TBI100-212.166.14T | 100 mm | 0 ... 250 °C | 250 mm | Stainless steel | IP67 |
| TBI100-214.162.16T | 100 mm | 0 ... 600 °C | 100 mm | Stainless steel | IP67 |
| TBI100-214.166.13T | 100 mm | 0 ... 160 °C | 250 mm | Stainless steel | IP67 |
| TBI100-212.166.15T | 100 mm | 0 ... 400 °C | 250 mm | Stainless steel | IP67 |
| TBHA080-212.164.27T | 80 mm | 0 ... 80 °C | 115 mm | Stainless steel | IP50 |
| TBI100-214.162.20T | 100 mm | 0 ... 120 °C | 100 mm | Stainless steel | IP67 |
| TBI100-214.166.14T | 100 mm | 0 ... 250 °C | 250 mm | Stainless steel | IP67 |
| TBHA100-212.161.52T | 100 mm | -20 ... 40 °C | 55 mm | Stainless steel | IP50 |
| TBI100-212.166.16T | 100 mm | 0 ... 600 °C | 250 mm | Stainless steel | IP67 |
| TBHA100-212.161.13T | 100 mm | 0 ... 160 °C | 55 mm | Stainless steel | IP50 |
| TBI100-214.162.22T | 100 mm | 0 ... 200 °C | 100 mm | Stainless steel | IP67 |
| TBI100-214.166.15T | 100 mm | 0 ... 400 °C | 250 mm | Stainless steel | IP67 |
| TBI100-212.166.20T | 100 mm | 0 ... 120 °C | 250 mm | Stainless steel | IP67 |
| TBI100-214.166.16T | 100 mm | 0 ... 600 °C | 250 mm | Stainless steel | IP67 |
| TBI100-214.162.25T | 100 mm | 0 ... 500 °C | 100 mm | Stainless steel | IP67 |
| TBI100-212.166.22T | 100 mm | 0 ... 200 °C | 250 mm | Stainless steel | IP67 |
| TBHA100-212.162.52T | 100 mm | -20 ... 40 °C | 75 mm | Stainless steel | IP50 |
| TBI100-214.166.20T | 100 mm | 0 ... 120 °C | 250 mm | Stainless steel | IP67 |
| TBHA100-212.162.13T | 100 mm | 0 ... 160 °C | 75 mm | Stainless steel | IP50 |
| TBI100-214.162.27T | 100 mm | 0 ... 80 °C | 100 mm | Stainless steel | IP67 |
| TBI100-212.166.25T | 100 mm | 0 ... 500 °C | 250 mm | Stainless steel | IP67 |
| TBI100-214.166.22T | 100 mm | 0 ... 200 °C | 250 mm | Stainless steel | IP67 |
| TBHA100-212.163.52T | 100 mm | -20 ... 40 °C | 95 mm | Stainless steel | IP50 |
| TBI100-214.162.51T | 100 mm | -30 ... 70 °C | 100 mm | Stainless steel | IP67 |
| TBI100-212.166.27T | 100 mm | 0 ... 80 °C | 250 mm | Stainless steel | IP67 |
| TBHA100-212.163.13T | 100 mm | 0 ... 160 °C | 95 mm | Stainless steel | IP50 |
| TBI100-214.166.25T | 100 mm | 0 ... 500 °C | 250 mm | Stainless steel | IP67 |
| TBI100-214.162.52T | 100 mm | -20 ... 40 °C | 100 mm | Stainless steel | IP67 |
| TBI100-212.166.51T | 100 mm | -30 ... 70 °C | 250 mm | Stainless steel | IP67 |
| TBI100-214.166.27T | 100 mm | 0 ... 80 °C | 250 mm | Stainless steel | IP67 |
| TBHA100-212.164.52T | 100 mm | -20 ... 40 °C | 115 mm | Stainless steel | IP50 |
| TBI100-214.162.54T | 100 mm | -20 ... 60 °C | 100 mm | Stainless steel | IP67 |
| TBHA100-212.164.13T | 100 mm | 0 ... 160 °C | 115 mm | Stainless steel | IP50 |
| TBI100-212.166.52T | 100 mm | -20 ... 40 °C | 250 mm | Stainless steel | IP67 |
| TBI100-214.166.51T | 100 mm | -30 ... 70 °C | 250 mm | Stainless steel | IP67 |
| TBI100-214.162.55T | 100 mm | -30 ... 170 °C | 100 mm | Stainless steel | IP67 |
| TBHA100-212.164.27T | 100 mm | 0 ... 80 °C | 115 mm | Stainless steel | IP50 |
| TBI100-212.166.54T | 100 mm | -20 ... 60 °C | 250 mm | Stainless steel | IP67 |
| TBI100-214.166.52T | 100 mm | -20 ... 40 °C | 250 mm | Stainless steel | IP67 |
| TBI100-214.162.68T | 100 mm | -70 ... 50 °C | 100 mm | Stainless steel | IP67 |
| TBI100-214.166.54T | 100 mm | -20 ... 60 °C | 250 mm | Stainless steel | IP67 |
| TBI100-212.166.55T | 100 mm | -30 ... 170 °C | 250 mm | Stainless steel | IP67 |
| TBI100-214.162.84T | 100 mm | -20 ... 100 °C | 100 mm | Stainless steel | IP67 |
| TBI100-214.166.55T | 100 mm | -30 ... 170 °C | 250 mm | Stainless steel | IP67 |
| TBI100-212.166.68T | 100 mm | -70 ... 50 °C | 250 mm | Stainless steel | IP67 |
| TBI100-214.164.11T | 100 mm | 0 ... 60 °C | 160 mm | Stainless steel | IP67 |
| TBI100-214.166.68T | 100 mm | -70 ... 50 °C | 250 mm | Stainless steel | IP67 |
| TBI100-214.164.12T | 100 mm | 0 ... 100 °C | 160 mm | Stainless steel | IP67 |
| TBI100-212.166.84T | 100 mm | -20 ... 100 °C | 250 mm | Stainless steel | IP67 |
| TBI100-214.166.84T | 100 mm | -20 ... 100 °C | 250 mm | Stainless steel | IP67 |
| TBI100-214.164.13T | 100 mm | 0 ... 160 °C | 160 mm | Stainless steel | IP67 |
| TBI100-212.167.11T | 100 mm | 0 ... 60 °C | 400 mm | Stainless steel | IP67 |
| TBI100-214.167.11T | 100 mm | 0 ... 60 °C | 400 mm | Stainless steel | IP67 |
| TBI100-214.164.14T | 100 mm | 0 ... 250 °C | 160 mm | Stainless steel | IP67 |
| TBI100-212.167.12T | 100 mm | 0 ... 100 °C | 400 mm | Stainless steel | IP67 |
| TBI100-214.167.12T | 100 mm | 0 ... 100 °C | 400 mm | Stainless steel | IP67 |
| TBI100-214.164.15T | 100 mm | 0 ... 400 °C | 160 mm | Stainless steel | IP67 |
| TBI100-212.167.13T | 100 mm | 0 ... 160 °C | 400 mm | Stainless steel | IP67 |
| TBI100-214.167.13T | 100 mm | 0 ... 160 °C | 400 mm | Stainless steel | IP67 |
| TBI100-214.164.16T | 100 mm | 0 ... 600 °C | 160 mm | Stainless steel | IP67 |
| TBI100-212.167.14T | 100 mm | 0 ... 250 °C | 400 mm | Stainless steel | IP67 |
| TBI100-214.167.14T | 100 mm | 0 ... 250 °C | 400 mm | Stainless steel | IP67 |
| TBI100-212.167.15T | 100 mm | 0 ... 400 °C | 400 mm | Stainless steel | IP67 |
| TBI100-212.167.16T | 100 mm | 0 ... 600 °C | 400 mm | Stainless steel | IP67 |
| TBI100-212.167.20T | 100 mm | 0 ... 120 °C | 400 mm | Stainless steel | IP67 |
| TBI100-212.167.22T | 100 mm | 0 ... 200 °C | 400 mm | Stainless steel | IP67 |
Looking for the price? [x]
---