Temperature switches Bourdon

Bourdon-Haenni is one of the world leading brands for mechanical process instrumentation and belongs with its international business locations to the Baumer Group. Historically, this competence and passion is based on the Bourdon tube invented in 1843 by Eugène Bourdon, which is the central component for precise mechanical pressure measurement technology, today and in the future. The comprehensive product portfolio is manufactured with high vertical integration and state-of-the-art process methods in the company own production sites in France, Switzerland, Germany and India.
---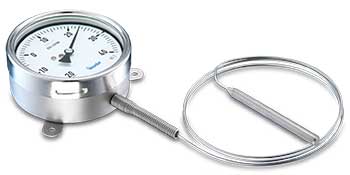 Mechanical temperature switches have been developed to switch an electrical contact, when a temperature in a process exceeds defined limits. The temperature can be too high or too low. Temperature switches have no precise local indication, no analog output signal and need no electrical power supply. These simple devices are purely optimized to guarantee an excellent repeatability and reliability of the switching behavior. Temperature switches without power supply are used in safety critical applications. Bourdon is a well- known supplier for the equipment of power plants and offers a wide range of products especially for nuclear power stations.
But also many other applications like monitoring or regulation of fluid temperatures in a tank, heat exchangers etc. profit from these safe and simple solution. Temperature switches are available in EEx ia and EEx d versions for hazardous areas. With remote capillaries up to 20 meters length installation is possible also under difficult mounting conditions.
Image
Name
Description
Mounting
Approval
Immersion tube

RT2N
Compact
temperatur switch
Datasheet
Direct
With capillary
without ATEX
Stainless steel
1.4404 (316L)

RT2Y
Compact
temperatur switch
Datasheet
Direct
With capillary
ATEX Ex ia
Stainless steel
1.4404 (316L)

RT2E
Compact
temperatur switch
Datasheet
Direct
With capillary
ATEX Ex d
Stainless steel
1.4404 (316L)

RTAA3
Industrial
temperature switch
Datasheet
Direct
without ATEX
Copper alloy

RTNA3
Industrial
temperature switch
Datasheet
Direct
without ATEX
Stainless steel
1.4404 (316L)

RTAY3
Industrial
temperature switch
Datasheet
Direct
ATEX Ex ia
Copper alloy

RTNY3
Industrial
temperature switch
Datasheet
Direct
ATEX Ex ia
Stainless steel
1.4404 (316L)

RTAE3
Industrial
temperature switch
Datasheet
Direct
ATEX Ex d
Copper alloy

RTNE3
Industrial
temperature switch
Datasheet
Direct
ATEX Ex d
Stainless steel
1.4404 (316L)

RTAA4
Industrial
temperature switch
Datasheet
With capillary
without ATEX
Copper alloy

RTNA4
Industrial
temperature switch
Datasheet
With capillary
without ATEX
Stainless steel
1.4404 (316L)

RTAY4
Industrial
temperature switch
Datasheet
With capillary
ATEX Ex ia
Copper alloy

RTNY4
Industrial
temperature switch
Datasheet
With capillary
ATEX Ex ia
Stainless steel
1.4404 (316L)

RTAE4
Industrial
temperature switch
Datasheet
With capillary
ATEX Ex d
Copper alloy

RTNE4
Industrial
temperature switch
Datasheet
With capillary
ATEX Ex d
Stainless steel
1.4404 (316L)
Looking for the price? [x]
---